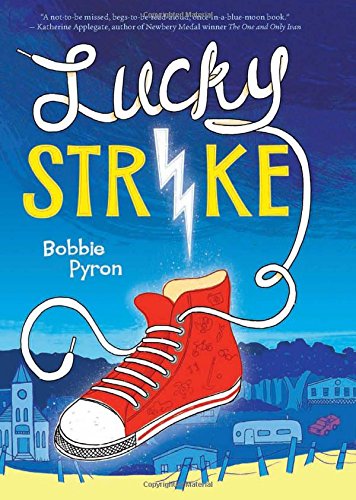 Publisher's Note:
A rich, southern voice tells the unforgettable story of two vulnerable outsiders, the lightning strike that turns their world upside down and the true meaning of lucky.

Nate Harlow has never had a lucky day in his life. He's never won a prize, he's never been picked first, he's never even won a coin toss. His best friend, Genesis Beam (aka Gen), believes in science and logic, and she doesn't think for one second that there's such a thing as luck, good or bad. But only an extremely unlucky person could be struck by lightning on his birthday... and that person is Nate Harlow. By some miracle, though, Nate survives, and the strike seems to have changed his luck. Suddenly, Nate's grandpa is the busiest fisherman in their small, beachside town. And Nate finds himself the center of attention, the most popular kid at school, the one who hits a game-winning home run! This lucky streak can't last forever, though, and as a hurricane draws close to the shores of Paradise Beach, Nate and Gen may need more than just good luck to save their friendship and their town: They need a miracle.
This book was sent to Compass Book Ratings for review by Scholastic
Lucky Strike
by Bobbie Pyron
Overall Review:
Can a person's luck change from bad to good in an instant? Nate is about to learn if it really happened to him in the novel, Lucky Strike by Bobbie Pyron. With this change of luck comes a change in how people perceive and treat him. It is up to Nate to figure out if this new attention is a good or bad thing. Then there is the fact that this change in luck doesn't always bring smooth sailing for Nate and his Grandpa. Nate has to learn to navigate the rough patches, some of which are of his own making. As he learns to navigate the difficulties, he is also learning how to deal with the people that mean the most to him and how his change in luck affects the dynamics of their relationships.
Lucky Strike is a novel about friendship, with all of its ups and downs. Pyron's characters act and react in such believable and familiar ways that every reader will be able to find a little of themselves in this novel. The author also creates a delightful and descriptive picture of small town, down-on-it's-luck America, in the town of Paradise Beach. Readers will be able to picture themselves as one of the townsfolk. Just as everything seems to be determined by luck in the story, it is these townsfolk and the strength of Nate's friendship with Gen, that are tested and in the end pull through. Nate learns that it is not luck that determines who we are or who loves us, but yourself and true friendship.
Content Analysis:
Profanity/Language: 16 religious exclamations (note these are all said in a more respectful, almost religious way).
Violence/Gore: 2 characters are struck by lightning causing casualties; man grabs child and shakes roughly; man pinches child's shoulder; man grabs child to detain him; character shoves another, knocking to the ground; 2 children kick a child in the shins; motor to a boat vandalized and sabotaged; mention of character's parents dying in a car crash.
Sex/Nudity: None
Mature Subject Matter:
Death of parents, underage driving.
Alcohol / Drug Use:
Mention of accident caused by drunk driver; man spits out chewing tobacco; adults celebrate with champagne.
Reviewed By Sally