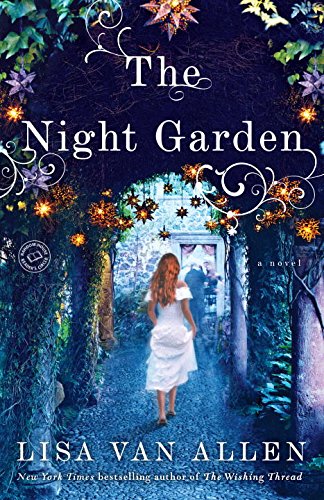 Publisher's Note:
For fans of Sarah Addison Allen, Aimee Bender, and Alice Hoffman, The Night Garden is a luminous novel of love, forgiveness, and the possibilities that arise when you open your heart.

Nestled in the bucolic town of Green Valley in upstate New York, the Pennywort farm appears ordinary, yet at its center lies something remarkable: a wild maze of colorful gardens that reaches beyond the imagination. Local legend says that a visitor can gain answers to life's most difficult problems simply by walking through its lush corridors.

Yet the labyrinth has never helped Olivia Pennywort, the garden's beautiful and enigmatic caretaker. She has spent her entire life on her family's land, harboring a secret that forces her to keep everyone at arm's length. But when her childhood best friend, Sam Van Winkle, returns to the valley, Olivia begins to question her safe, isolated world and wonders if she at last has the courage to let someone in. As she and Sam reconnect, Olivia faces a difficult question: Is the garden maze that she has nurtured all of her life a safe haven or a prison?
The Night Garden: A Novel
by Lisa Van Allen
Overall Review:
This book has left me in a little bit of a daze, but I will try to give it the justice it deserves. I was first attracted to this book by the cover image and title, and then the synopsis made me positively sure I wanted--no, needed to read this book.
First, I must say that this book reminded me a lot of all of Sarah Addison Allen's books. This was a good thing, but a little odd to me. It was almost as if this author was trying to imitate or copy Ms. Allen. I found that I didn't mind this so much because Sarah Addison Allen doesn't write near enough to keep me happy. Some similarities that this book shares with Ms. Allen's are as follows: gardens, a touch of magic, characters that have special "abilities", and love. Somehow both authors manage to take the mundane, everyday occurrences their characters face, and turn them into something magical and intriguing. One might argue that every author does this, and to some extent, that is true. However, some books just appeal to my adventurous side more than others, and The Night Garden is one of them.
This book focuses a lot on, surprise, surprise...gardens. Not just a simple, ordinary garden though. Nope, the gardens in this book are all part of a bigger plan--A labyrinth--and the labyrinth isn't just a maze, it's a journey that the characters are welcomed to take to find answers. The land that this labyrinth is on is situated in New York, one of the last place I would think of to go if you want to find your true self, and relax at a commune. Nevertheless, this is where women and men alike are beckoned to to find solace and healing. The labyrinth holds several secrets though, and those secrets are what make this story slightly suspenseful.
This book could be appealing to a large audience. People who enjoy inspirational fiction will like the journey that the main character, Olivia Pennywort, travels to find the answers to her deepest questions. Mystery lovers will find that they can't predict the ending to this interesting story. And history buffs might not find anything historical about this book, but they should give it a fair chance anyway, because otherwise they are surely missing out!
Content Analysis:
Profanity/Language: 11 religious exclamations; 13 mild obscenities; 2 scatological words; 1 anatomical term.
Violence/Gore: An individual is mentioned to have died from eeating a mushroom; a car crash and mangled bodies of dead people are briefly described; an abusive father is referred to; a character mentions a plane accident and injuries that he incurred, he claims to have died briefly; a character is mentioned to have had a concussion; a character is in a fatal accient, some blood is mentioned; a boy is mentioned to have been run over by a tractor, he does not perish; a character is depicted to be unconcious because of heat exhaustion; a character has a major allergic reaction.
Sex/Nudity: Sex trafficking referred to; sex is referred to several times; adults kiss several times; teens are mentionedto be tempted to have sex; a pair of minors touch each other in a sensual way; a woman is depicted nude in one brief, non-sexual scene; a woman desires to have sex; a man looks lustfully at a woman he loves; a man and woman swim nude, this is not depicted in a sexual way, but the pair seem to share a mutual attraction; a man undresses a woman and looks pleasurably at her nude body; a woman touches herself sexually in front of a man; a man and woman make love in one brief, non-descriptive scene; a man and woman make love and talk about it.
Mature Subject Matter:
Ghosts, theft, homelessness, sexual orientation (a character is mentioned to be gay).
Alcohol / Drug Use:
Adults drink shots; adults drink wine; drug use is referred to; smoking pot is mentioned.
Reviewed By Lydia