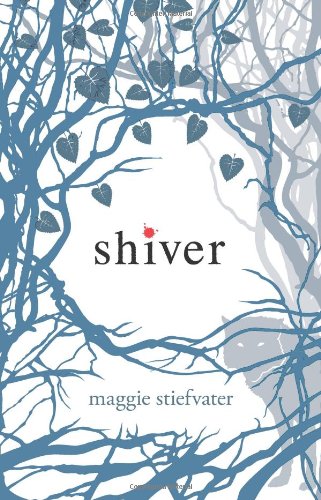 Publisher's Note:
From a dazzlingly talented young writer, a haunting and original supernatural romance in the vein of TWILIGHT.

For years, Grace has watched the wolves in the woods behind her house. One yellow-eyed wolf--her wolf--is a chilling presence she can't seem to live without. Meanwhile, Sam has lived two lives: In winter, the frozen woods, the protection of the pack, and the silent company of a fearless girl. In summer, a few precious months of being human . . . until the cold makes him shift back again.

Now, Grace meets a yellow-eyed boy whose familiarity takes her breath away. It's her wolf. It has to be. But as winter nears, Sam must fight to stay human--or risk losing himself, and Grace, forever.
Shiver
by Maggie Stiefvater
Overall Review:
Have you ever felt like someone was watching you? Do you remember that eerie feeling? Grace feels that goose bump sensation often, especially in winter. She is warranted in that feeling because someone, or something, is watching her from just beyond the edge of the woods and has been for years. Shiver is the first book in a trilogy by the #1 New York Times Bestselling author, Maggie Stiefvater. Werewolves, biting, love, hidden romance, and mystery are all wrapped up in this novel. Teens and young adults alike will devour it.
Stiefvater writes this novel in alternating voices of the two main characters, Sam and Grace. The shift is so natural that the reader easily glides into each chapter. It is refreshing to be inside the thoughts of the characters and know how each one sees the situation. Readers may make a connection with the similarities between Shiver and Twilight by Stephenie Meyer. However, the differences and the mystery that unfolds in the twists and turns of the plot gives Shiver the ability to not be 'just another werewolf book'. For teens, and adults, that can't get enough vampires and werewolves, this is a much needed read and addition to your collection.
Content Analysis:
Profanity/Language: 20 religious exclamations; 20 mild obscenities; 2 derogatory names; 6 uses of scatological words; 2 anatomical terms.
Violence/Gore: Wolves attack and bite a child with details; wolves attack and kill a minor-aged character; hunters shoot several wolves; wolf transforms to human; teenage character is shot with some blood; character is accused of trying to commit suicide; character accuses parents of trying to kill him; characters shifts from human to wolf multiple times; character recalls parent leaving her in a locked car; character is accused of killing two people while in wolf form; character is accused of biting a human; character is assumed to have shot another character; character recalls snapping a rabbit's neck between his teeth; character remembers in detail the shift between human and wolf; character remembers parents holding him under water while cutting his wrists in detail; multiple humans are bitten and turned into werewolves; character recalls killing two dogs in a brutal dog fight; wolf attacks character with details; character fights wolf; character shoots wolf; character recalls eating a dog; character attacks a wolf.
Sex/Nudity: Male character is naked (non-sexual); character is dressed in hospital gown; characters share a bed (non-sexual); character admits to seeing female character nude through her window; characters kiss; character wears only sweat pants; character has sexual thoughts; characters embrace; characters make out in bed; character caresses female character in bed as she sleeps; characters make-out on a couch; character shows a picture of a naked male (non-sexual); character slaps another character on rear; characters dance sexily; teen characters have sex with little detail.
Mature Subject Matter:
Murder, attempted murder of a child by parents, homelessness, robbery/thieving, hunting, pet dying, killing animals, abandonment, serious illness, embezzlement, lovers/sexual relationship out of wedlock.
Alcohol / Drug Use:
Character is given medicine to sleep.
Reviewed By Nicole