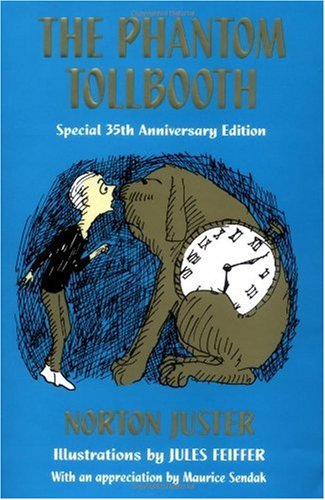 Publisher's Note:
This ingenious fantasy centeres around Milo, a bored ten-year-old who comes home to find a large toy tollbooth sitting in his room. Joining forces with a watchdog named Tock, Milo drives through the tollbooth's gates and begins a memorable journey. He meets such characters as the foolish, yet lovable Humbug, the Mathemagician, and the not-so-wicked "Which," Faintly Macabre, who gives Milo the "impossible" mission of returning two princesses to the Kingdom of Wisdom...
The Phantom Tollbooth
by Norton Juster
Overall Review:
This book is: Fantastic! Marvelous! Fabulous! Stupendous! Incredible! Thus would be the reaction of the cabinet of King Azaz the Unabridged of the Kingdom of Dictionopolis. In The Phantom Tollbooth, we find the meaning of such statements as "It goes without saying", and "Half-baked ideas". We learn what might be the best kind of sentence you can get from a police officer. We are taught the rules of The Doldrums: one being that you're only allowed to smile slightly every other Thursday. And perhaps most importantly, we find out that you really do have to eat your words—so be careful what you say! The characters are fantastic! There's a 'Watch' Dog, a 'Which', 'Lethargians', a Senses Taker, and many more! Milo, our 'hero', takes a ride through this strange land and tries to save Rhyme and Reason (did you know they were people?) from the Castle in the Air (don't we all have one of those?). Fun for all ages, although you may not want to read this at bedtime, as I did, as it made us giggle more than yawn!
Content Analysis:
A hilarious book that is completely clean to boot! Absolutely nothing questionable in this book, which makes it even more enjoyable! I read this to my kids and they didn't get some of the hilarious one-liners. I was laughing my head off and my kids wondered what was so funny! So, while it's totally clean for anyone and everyone to read, to get the most benefit out of it I would recommend this for 9+.
Mature Subject Matter:
***
Alcohol / Drug Use:
***
Reviewed By Emily