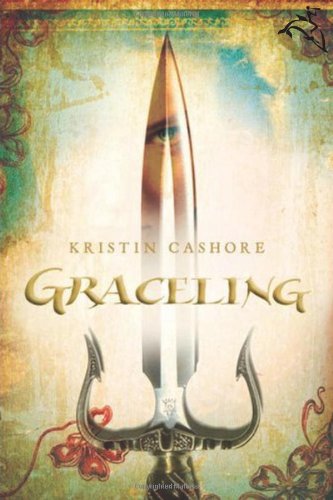 Publisher's Note:
Katsa has been able to kill a man with her bare hands since she was eight—she's a Graceling, one of the rare people in her land born with an extreme skill. As niece of the king, she should be able to live a life of privilege, but Graced as she is with killing, she is forced to work as the king's thug.
When she first meets Prince Po, Graced with combat skills, Katsa has no hint of how her life is about to change. She never expects to become Po's friend. She never expects to learn a new truth about her own Grace—or about a terrible secret that lies hidden far away . . . a secret that could destroy all seven kingdoms with words alone.
With elegant, evocative prose and a cast of unforgettable characters, debut author Kristin Cashore creates a mesmerizing world, a death-defying adventure, and a heart-racing romance that will consume you, hold you captive, and leave you wanting more.
Graceling
by Kristin Cashore
Overall Review:
Graceling is Kristin Cashore's first novel and begins the Graceling Realm series. Graceling tells the powerful story of Katsa and her discovering her 'grace', or extreme magical skill, and controlling her powers. The reader is immediately propelled into a plot that is dangerous and mysterious. Combat scenes with magical powers are heavy throughout the novel and well described making the reader feel immersed in the excitement. Cashore develops the characters in such a way that the reader feels an immediate attachment to them. Katsa reminds me of Katniss in The Hunger Games as Katsa also knows her plight and takes on the attitude of making the best of it and using it to the better of the kingdom. Although the publisher recommends this book for ages 14+, this book is recommended for much older teen readers because of themes regarding sexual relations (see content review below). Readers will search for the next book as the story ends leaving you hungry for more.
Content Analysis:
Profanity/Language: 1 mild obscenity.
Violence/Gore: Female character kicks and immobilizes five men; 8 year old female character hits her distant cousin in the nose and kills him; character is found in a pool of blood; character practices killing blows versus a maiming blow; character learns how to break an enemy's leg and how to twist his arm; character learns to fight with a sword, knives, and daggers; female character snaps a man's neck in public with no blood; a female and male character fight with kicks, punches and intensity; female character catches and snaps the neck of a goose barehanded; character reports of a king and queen falling ill and dying and two men committing suicide; a female character is chased by an army and shot with a bow and arrow in her back and killed by her husband and bleeds in the snow; two characters kill fourteen men with knives, arrows, daggers and swords with some descriptions; character is accused of torturing animals and killing them; character returns to camp with an arrow in his shoulder and lots of blood; a horse goes over the edge of a cliff with a rider; character reports to killing more than a dozen men in a bloodbath; character fights and kills a lion in a bloody hand-to-hand combat; minor-aged female character is trained to kill with a knife; two characters (one minor) discuss using their thumbs to put out an enemy's eyeballs; two characters discuss the soft places to stab a man to kill him; female character throws a dagger into a man's mouth and nails him to the back of his chair with a brief description.

Sex/Nudity: Adult male character touches a child's thigh; a minor-aged female character and an adult female character discuss a woman's bleedings; character takes a bath (non-sexual); a female character helps a younger female character dress; male character removes his wet shirt; male and female character discuss producing heirs; male and female character discuss eating leaves of a plant to prevent pregnancy; female character has thoughts of male character in a sexual way; character swims nude twice (non-sexual); male character suggests that heartbreak isn't the only alternative to marriage; male character offers himself without marriage; female character decides to take a lover after contemplating marriage (three pages); unmarried female and male character have sex with some descriptions of pain and birth control (two pages); unmarried female and male character are assumed to have sex with few details; characters kiss goodbye; unmarried female and male character are implied to have sex after brief descriptions of petting; male character feels scars on female characters breast.
Mature Subject Matter:
Death of a family member, killing, assassination, birth control, lovers/sexual relationship out of wedlock.
Alcohol / Drug Use:
Guards are said to have had drinks; drugs are given to multiple persons to make them unconscious.
Reviewed By Nicole