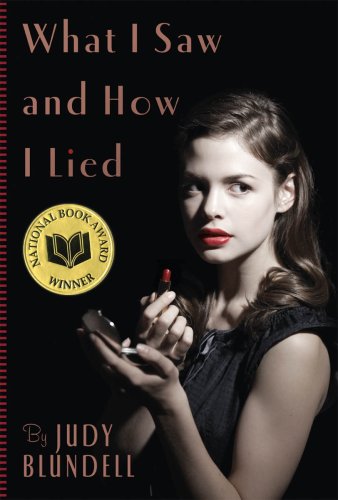 Publisher's Note:
Summer's ending, Evie's stepfather is finally home from the Second World War, and Evie is tired of her glamorous mother treating her like a little girl. Then a mysterious stranger appears; a handsome ex-GI who served with Evie's stepfather. Slowly, Evie realizes that she is falling in love with him - but he has dark secrets, and a strange control over her parents. When a sudden tragedy occurs, Evie's world is shattered. Torn between her family and the man she loves, Evie must betray someone. The question is ...who?
What I Saw and How I Lied
by Judy Blundell
Overall Review:
What I Saw and How I Lied by Judy Blundall is a well-written coming of age novel. Immediately, the reader is drawn into the characters as the author has the ability to make them seem so alive, realistic, and believable. Evie, the main character, is such an innocent child that the reader sees transform into a young adult through the pages of the book. As Evie experiences her first crush/puppy love, the reader is swept along with her. The author tugs at the readers' heartstrings by using the first love scenario with which most readers can relate. The familiarity makes the reader want to protect her and want the obvious betrayal to not be true. Evie faced her challenges head on. She has to make a life-altering decision that forces her to grow up and sacrifice part of herself. At times, we are also forced to make difficult decisions with major consequences. This book is an excellent example of how there are multiple sides to a story and that things are not always the way we see them, or want to see them. It is set during the 1940's after World War II ended. Historical fiction is not something I am generally drawn to read, but Judy Blundall did an excellent job of subtly blending in the details of the time period. There are some things that younger readers may not catch on to that identify the time period, but they will understand the story nevertheless.
Content Analysis:
Profanity/Language: 3 religious exclamations; 2 mild obscenities; 1 religious profanity; 2 derogatory names.
Violence/Gore: A character reports death during the war; two characters briefly fight; a character is missing and found dead with little details; two characters are accused of murder.
Sex/Nudity: Two characters kiss on multiple occasions; a character caresses another character's cheek; a character gropes a female's breast; a minor female character holds hands with an adult male; two characters (both minors) engage in heavy petting with boy removing parts of his clothing; an adult male character kisses a female minor; a minor female character lies on top of an adult male character while kissing; adult character is mentioned to have viewed girlie magazines; a character is thought to be having an affair with no details given.
Mature Subject Matter:
Racial and religious conflicts, death of a friend, brief discussions of WWII, marriage infidelity, lies, robbery/thieving, murder, embezzlement; underage drinking.
Alcohol / Drug Use:
Adults drink wine, champagne, whiskey, or beer at every dinner or dinner party mentioned; minor drinks Shirley Temples; minor is given half a glass of champagne; adult male is assumed to be drunk on multiple occasions; most adults smoke cigarettes throughout the book; minors mimic smoking with candy cigarettes.
Reviewed By Nicole