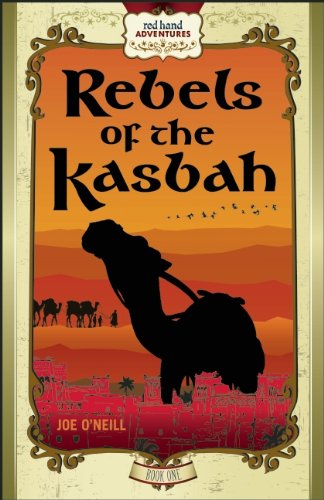 Publisher's Note:
Kidnapped on the streets of Tangier and sold into slavery, Tariq, Fez, and Aseem are fighting for their lives with the evil warlord, Caid Ali Tamzali, ruler of the Rif Mountains. Joined by British school girl Margaret Owen, also kidnapped and sold to the Caid to join his harem, the four must act quickly to escape before almost certain death—or worse. Although aided by a beautiful assassin and a small but clever band of resistance fighters, their lives depend on their own teamwork, inventiveness, and courage.

This fast-paced historical adventure, set in 1912, transports you from Tangier's corrupt slave markets to the wild frontier of the Moroccan desert, to the heart of ancient China, and the pirate-infested seas of the Mediterranean. The first book in the Red Hand Adventures series, Rebels of the Kasbah is an exhilarating tale of adventure, daring, danger and friendship.
This book was sent to Compass Book Ratings for review by Black Ship Publishing
Rebels of the Kasbah
by Joe O'Neill
Overall Review:
Rebels of the Kasbah is pure adventure--think Saturday matinee poured from the screen to the page. Although the dialogue and prose are a bit stiff at times, oh baby, this book is all about the plot--and it has plot in spades. Set in an exotic location at a romantic time (circa 1912), the characters careen from action scene to action scene. Three boys and a girl are thrown together into a friendship as they attempt to survive their perilous position. Harems, camel racing, rebels, sandstorms, pirates, fighting--this book has it all and will appeal to the action-seeking reader. Strangely, it seems like straight-up adventure is hard to find this day so this novel is a nice option for middle grade readers. The non-nuanced writing style leans towards younger readers, but the harsh realities of slave life depicted by the author suggest the upper end of the middle grade demographic.
The book is the first in the Red Hand Adventures series; it concludes the characters' most imminent crises, but it is clear that there is plenty of story left and that the end is merely a pause in the adventure. The second book, Wrath of the Caid, is already available and the third installment will be available in April 2015.
Content Analysis:
Profanity/Language: 5 religious exclamations; 5 mild obscenities.
Violence/Gore: Evidence of violence/injuries; adult male throws girl against wall; adult whips small child; character kicks another; report of a character's family being killed (no details); brief scene of attack with characters killed by gunshot (mention of blood and brief description of corpse); brief report of how a character was killed by dragging and stoning; characters cut hands to make blood oath; character whipped in brief scene and blood is said to splatter onto other people; report of death of parent in accident; various reports of violence and death; various threats of violence, some at knife point; older boys severely beat, kick younger boys resulting in a death; brief scene a character is whipped; extended battle with gunshot and some description (e.g. burst of blood & hair); character punched resulting in bloody lip; character slits another's throat and another is killed with knife; chase resulting in deaths by arrow (non-descriptive); extended martial arts fight scene resulting in deaths; martial art fight with staff resulting in unconsciousness and injuries such as a breaking an eardrum; extended battle scene involving cannon, gunshot, not terribly detailed, but there are some mentions of blood drenched tide and a hole being blown through someone; chase and death by gunshot; reports of injuries, such as the chopping off of hands; character is decapitated by sword (brief, non-descriptive).
Sex/Nudity: Passing general references to white girls bringing highest price and pleasure in harems, pimps, prostitution, "overt sexual suggestions", and rapists/rape.
Mature Subject Matter:
Slavery and accompanying physical mistreatment, child abduction, human trafficking, death, poverty, orphans, civil war/unrest, warlords.
Alcohol / Drug Use:
Adults smoke and drink; report that a father was a drunk; brief reference to drug runners and opium; character rendered unconscious with what one assumes was chloroform.
Reviewed By Cindy