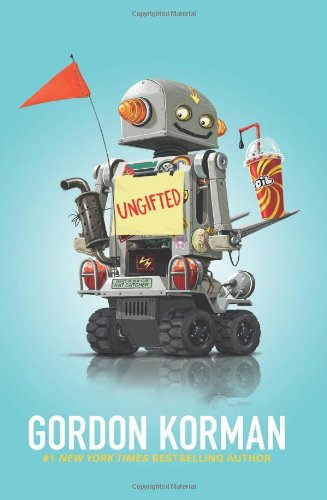 Publisher's Note:
From #1 New York Times bestselling author Gordon Korman comes a hilarious and heartfelt novel in which one middle-school troublemaker accidentally moves into the gifted and talented program—and changes everything. For fans of Louis Sachar and Jack Gantos, this funny and touching underdog story is a lovable and goofy adventure with robot fights, middle-school dances, live experiments, and statue-toppling pranks!
When Donovan Curtis pulls a major prank at his middle school, he thinks he's finally gone too far. But thanks to a mix-up by one of the administrators, instead of getting in trouble, Donovan is sent to the Academy of Scholastic Distinction, a special program for gifted and talented students.
Although it wasn't exactly what Donovan had intended, the ASD couldn't be a more perfectly unexpected hideout for someone like him. But as the students and teachers of ASD grow to realize that Donovan may not be good at math or science (or just about anything), he shows that his gifts may be exactly what the ASD students never knew they needed.
Ungifted
by Gordon Korman
Overall Review:
When circumstances force Donovan, the prankster of his middle school, into 'hiding' in a place not of his choosing--which is the school for gifted kids, he wonders how he is going to fit in. Being 'ungifted', he certainly won't fit in academically, but being 'normal' in the other kids eyes means he has more to offer than he realizes. This enables him to save the day for them more than once, make friends with kids he never would have thought of befriending, and to realize there is more to life than pranks and avoiding detention.
Ungifted, by Gordon Korman, is full of stereotypes and middle school awkwardness, but is written in a way to make it a comical, relatable read. Younger readers will certainly be able to relate to one of the many characters, while older readers will wince as they are reminded of their middle school years. There is something in this novel for everyone and anyone that was ever or is being 'labeled' in middle school will appreciate it. As the two worlds (gifted vs. ungifted) collide, one can see the lessons of self-awareness for all involved, the realization that everyone has something to learn, and more importantly, everyone has something to offer, come to light in the midst of the fun that ensues.
I would highly recommend this book for any middle grader, but especially for anyone that is wondering where they fit in.
Content Analysis:
Profanity/Language: None
Violence/Gore: Character describes pranks he's done, some of which include minor property damage; character mentions possible punishments from his imagination, such as "I would have been lynched", "They've got guard towers to gun you down", "My parents would kill me if they find out"; character hits a statue with a stick and causes it to break and cause more property damage; reference made of Road Runner dropping Wile E Coyote off the cliff; character punches another character (2 times); character drags 2 people by the scruffs of their necks; character kicks another person; student brawl breaks out with shoving, punching and one student jumping on top of a crowd of students; character threatens another that it will be his funeral next; character exaggerates an account of getting kicked and getting a black eye to getting taken down with karate moves in a brutal fashion; character steals school toilet seat; mention of a character's husband being in a war zone and being shot at.
Sex/Nudity: Reference to a sex education class given to middle schoolers; mention of a pelvic exam as part of a doctor's check-up; boy and girl hug.
Mature Subject Matter:
Bullying, cheating, pregnancy (person is married, but it is mentioned in with more details than typical), war.
Alcohol / Drug Use:
None
Reviewed By Sally