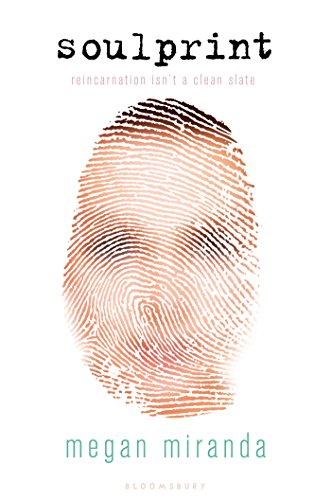 Publisher's Note:
Seventeen-year-old Alina Chase has spent her entire life imprisoned on a secluded island—not for a crime she committed in this lifetime, but one done by her past self. Her very soul is like a fingerprint, carried from one life to the next—and Alina is sick of being guilty.
Aided by three teens with their own ulterior motives, Alina manages to escape. Although she's not sure she can trust any of them, she soon finds herself drawn to Cameron, the most enigmatic and alluring of the trio. But when she uncovers clues from her past life, secrets begin to unravel and Alina must figure out whether she's more than the soul she inherited, or if she's fated to repeat history.
This stunning "new world" romance from acclaimed author Megan Miranda will leave readers wondering how far they would go to escape the past.
This book was sent to Compass Book Ratings for review by Bloomsbury Children's Books
Soulprint
by Megan Miranda
Overall Review:
Soulprint has a clever and unique plot that piqued my interest right away. Within its diverse storyline this book delivers suspense, action, and a little romance. Author Megan Miranda not only kept you at the edge of your seat, she also snuck in a few surprises and who doesn't love that? I especially enjoyed the character development of Alina, the main character, who at first seemed to just be a pushover, but then quickly proves herself to be the heroine you hope for in a novel. The reader may question some of her choices throughout but if nothing else, she's able to convince us of her individuality. While I enjoyed the story there were a few things that just felt a little unbelievable to me, i.e. situations that occurred at unexpected or inappropriate times or felt forced. These didn't ruin the book by any means, but they just weren't what I anticipated. This book will appeal to sci-fi fans both young and old.
Review of an Advance Reader's Copy
Content Analysis:
Profanity/Language: 29 religious exclamations; 26 mild obscenities; 8 religious profanities; 1 derogatory name; 15 scatological words; 4 anatomical terms.
Violence/Gore: Many (23) brief incidents including character jokes about murder and suicide; threats; attempted murder; secondhand reports of attempted murder; characters in movie die; mention of dead criminals; secondhand report of deaths and murders; character uses stun gun; characters sustain non-life threatening injuries; explosion with no casualties; window to building intentionally broken; character started fire (no casualties).
Sex/Nudity: Many (23) brief incidents including hugging, arm around another, kissing, holding hands; touching shoulder, waist and back; male and female characters change clothes in front of each other (non-sexual); making out; touching and making out (doesn't mention where touching occurs).
Mature Subject Matter:
Death, murder, theft.
Alcohol / Drug Use:
Character acts drunk, but hasn't actually had anything to drink.
Reviewed By Jenny