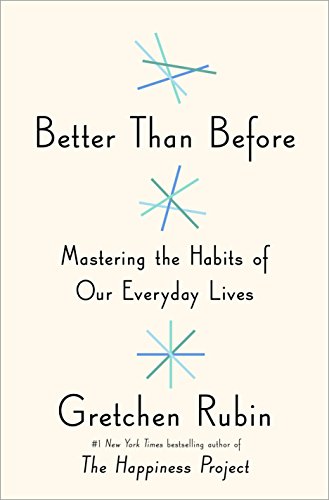 Publisher's Note:
The author of the blockbuster New York Times bestsellers, The Happiness Project and Happier at Home, tackles the critical question: How do we change?

Gretchen Rubin's answer: through habits. Habits are the invisible architecture of everyday life. It takes work to make a habit, but once that habit is set, we can harness the energy of habits to build happier, stronger, more productive lives.

So if habits are a key to change, then what we really need to know is: How do we change our habits?

Better than Before answers that question. It presents a practical, concrete framework to allow readers to understand their habits—and to change them for good. Infused with Rubin's compelling voice, rigorous research, and easy humor, and packed with vivid stories of lives transformed, Better than Before explains the (sometimes counter-intuitive) core principles of habit formation.

Along the way, Rubin uses herself as guinea pig, tests her theories on family and friends, and answers readers' most pressing questions—oddly, questions that other writers and researchers tend to ignore:

• Why do I find it tough to create a habit for something I love to do?
• Sometimes I can change a habit overnight, and sometimes I can't change a habit, no matter how hard I try. Why?
• How quickly can I change a habit?
• What can I do to make sure I stick to a new habit?
• How can I help someone else change a habit?
• Why can I keep habits that benefit others, but can't make habits that are just for me?

Whether readers want to get more sleep, stop checking their devices, maintain a healthy weight, or finish an important project, habits make change possible. Reading just a few chapters of Better Than Before will make readers eager to start work on their own habits—even before they've finished the book.
Better Than Before: Mastering the Habits of Our Everyday Lives
by Gretchen Rubin
Overall Review:
Surely if you are human you have a habit you desire to break. If you are the epitome of perfection and have absolutely no habits you want to break, then I bet you have a habit you'd like to introduce. Habits and being human seem to be two things that are naturally intertwined. You can't have one without the other. I have lots of habits I would like to break, and a few I would like to form, so this book really piqued my interest.
Gretchen Rubin has written two other books previously--books that I would categorize under "Self-help". Both are centered on happiness and how to be happier, something that most people probably want. After reading Ms. Rubin's books I always feel enlightened and energized and ready to put what I have learned to good use. They are inspirational books and almost anyone who reads them will be able to take away at least a nugget of wisdom, but most likely more.
Better Than Before felt especially appropriate to me, as I have been struggling with letting some old habits go. This book gave me a foundation to work with, and I hope to refer back to it in the future to help me gain a sense of structure when I am feeling lost. Gretchen Rubin writes about everything, from what type of a habit maker you are (I found out I am a little bit of an obliger and an upholder) to what has helped her give up or make habits in her life. Even though most Americans associate the New Year with the time to make a resolution, Gretchen encourages her readers to make way for new habits at any time of the year. So no excuses...start reading Better Than Before and prepare to become motivated!
Review of Advance Review Copy

Content Analysis:
Profanity/Language: 1 mild obscenity;1 derogatory name.
Violence/Gore: A husband is mentioned to have died; crime is mentioned in theory.
Sex/Nudity: Sex is referred to (it is suggested that a couple wishes to have sex more frequently); an affair is referred to; adults kiss a couple of times.
Mature Subject Matter:
Mention of gambling, using drugs, addiction, and divorce as suggested habits to break.
Alcohol / Drug Use:
Drug use is referred to; quitting heroin is referred to; adult smoking is referred to; adults mentioned to drink for pleasure; smoking pot is referred to.
Reviewed By Lydia