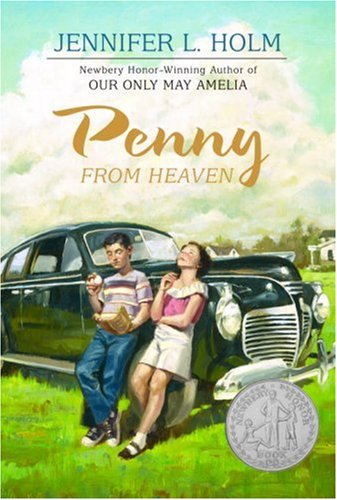 Publisher's Note:
It's1953 and 11-year-old Penny dreams of a summer of butter pecan ice cream, swimming, and baseball. But nothing's that easy in Penny's family. For starters, she can't go swimming because her mother's afraid she'll catch polio at the pool. To make matters worse, her favorite uncle is living in a car. Her Nonny cries every time her father's name is mentioned. And the two sides of her family aren't speaking to each other!

Inspired by Newbery Honor winner Jennifer Holm's own Italian American family, Penny from Heaven is a shining story about the everyday and the extraordinary, about a time in America's history, not all that long ago, when being Italian meant that you were the enemy. But most of all, it's a story about families—about the things that tear them apart and bring them together. And Holm tells it with all the richness and the layers, the love and the laughter of a Sunday dinner at Nonny's. So pull up a chair and enjoy the feast! Buon appetito!
This book was sent to Compass Book Ratings for review by Yearling (A Random House Children's Imprint)
Penny From Heaven
by Jennifer L. Holm
Overall Review:
Penny's idea of Heaven involves butter pecan ice cream, the Dodgers, and her big, loud, Italian family. But this summer isn't exactly heaven. She's living through a horrible haircut, days filled with boredom because her mom is too afraid of polio to let Penny go to either the pool or the movie theater, and her cousin Frankie's crazy schemes. With gentle wit and great historical details, Jennifer Holm weaves a pitch-perfect historical fiction about family, honesty, and growing up. Penny From Heaven kept me hooked from beginning to end!
Content Analysis:
There is very mild profanity (no actual expletives, only phrases like "we knew all the good [Italian] curse words").
There is mild violence—there are a few minor brawls, and one character is injured in a household accident.
There is no sexual content (a girl has a crush on a boy and wonders what it would be like to kiss him, but it's very innocent and not dwelt on).
Mature Subject Matter:
Mature themes consist of family secrets and serious injuries.
Alcohol / Drug Use:
***
Reviewed By CindyB