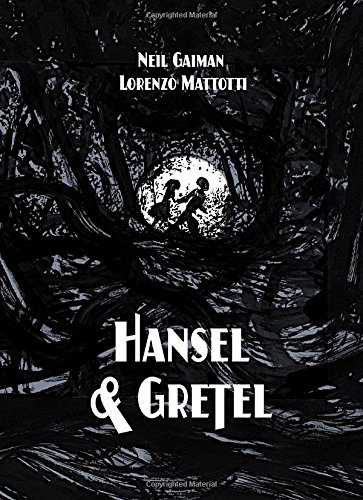 Publisher's Note:
"If this isn't the definitive edition of Hansel and Gretel, it's absolutely necessary."—Kirkus Reviews, starred review
Best-selling author Neil Gaiman and fine artist Lorenzo Mattotti join forces to create Hansel & Gretel, a stunning book that's at once as familiar as a dream and as evocative as a nightmare. Mattotti's sweeping ink illustrations capture the terror and longing found in the classic Brothers Grimm fairy tale. Gaiman crafts an original text filled with his signature wit and pathos that is sure to become a favorite of readers everywhere, young and old.
Neil Gaiman is the best-selling author of short fiction, novels, comic books, graphic novels, audio, theater, and films for children and adults alike. His work has received many international awards, including the Newbery and Carnegie Medals, as well as Hugos, two Nebulas, a World Fantasy Award, four Bram Stoker Awards, six Locus Awards, and countless other honors. He is a pillar of modern fantasy writing. He has said that the story of Hansel and Gretel is what made him want to be a writer.
Lorenzo Mattotti is an Italian comics and graphic artist living in Paris. A frequent contributor of covers for the New Yorker, he's recognized as one of the most outstanding international exponents of comics art. Mattotti won an Eisner Award for his graphic novel Dr. Jekyll & Mr. Hyde. He collaborated with Lou Reed in re-imaging Edgar Allan Poe's The Raven.
Hansel and Gretel: A TOON graphic
by Neil Gaiman
Overall Review:
I've always been attracted to fairytales. Something about the mixture of everyday life and fantasy that goes into them really appeals to me. This "retelling" of Hansel and Gretel sticks pretty close to the storyline I was brought up hearing, with one delightful twist: India ink illustrations. I will admit, that was one of the main reasons I picked this book up.
Readers familiar with the classic story of Hansel and Gretel will already know the basic premise of this tale. A brother and a sister become lost in the woods and are rescued by an old woman who lives in a house made of sweet treats. As the story continues the children realize their lives are in danger, and do what they can to escape before it is too late. Neil Gaiman seemed to take a bit of liberty with the story, cutting parts out here, adding little changes there, but for the most part I think he did a fine job and did the classic story justice. This book would be the perfect one for a reluctant reader or a kid (or adult!) who enjoys having some pictures to go along with their stories.
Content Analysis:
Profanity/Language: None

Violence/Gore: A mother suggests "losing" her young children in order to survive starvation; children are abandoned in the woods by parents; a girl is mentioned to be beaten by a woman with no description; verbal abuse occurs (adults verbally abusing children); a girl pushes a woman into an oven and the woman burns to death (one brief scene); several scenes are protrayed as scary or creepy.
Sex/Nudity: None

Mature Subject Matter:
War is mentioned, death, personal crises, child abandonment, attempted murder, killing in self-defense.
Alcohol / Drug Use:
A woman drugs children.
Reviewed By Lydia