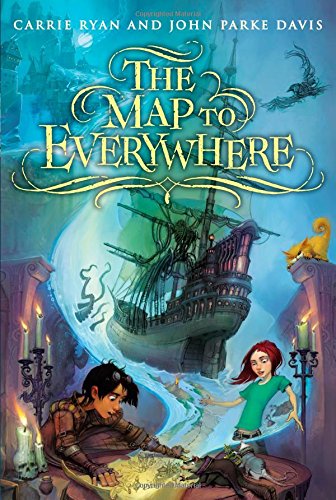 Publisher's Note:
Wherever you need to go--the Map to Everywhere can take you there.

To Master Thief Fin, an orphan from the murky pirate world of the Khaznot Quay, the Map is the key to finding his mother. To suburban schoolgirl Marrill, it's her only way home after getting stranded on the Pirate Stream, the magical waterway that connects every world in creation. With the help of a bumbling wizard and his crew, they must scour the many worlds of the Pirate Stream to gather the pieces of the Map to Everywhere--but they aren't the only ones looking. A sinister figure is hot on their tail, and if they can't beat his ghostly ship to find the Map, it could mean the destruction of everything they hold dear!

In Carrie Ryan and John Parke Davis's first installment of a fantastical new series, adventure, magic, and hilarity collide in the treacherous skies and dangerous waters of the Pirate Stream. Heart-pounding escapades and a colorful cast of characters will have readers setting sail through this wholly original and unforgettable tale.
The Map to Everywhere
by Carrie Ryan & John Parke Davis
Overall Review:
The Map to Everywhere has everything that a good fantasy/adventure story needs: magic, wizards, a massively evil guy, pirates, thieves, a quest, a prophecy, a clever boy, a brave girl, a naysayer, a cat. Yes, this book has all the right ingredients. Perhaps the oustanding feature of this book is the way it embraces the whimsy of magic; magic doesn't have to be logical, or explained in minutiae, or have rules--magic can be anything. Finn the thief and Marrill the urban schoolgirl form an endearing friendship and ensure that this book will have a wide audience, appealing to both male and female readers.
Bonuses to the story are the illustrations by Todd Harris (Yes, the same Todd Harris that did the illustrations for The Hero's Guide books. In fact, lovers of The Hero's Guide will likely enjoy this novel, too.) This story is fairly self-contained and has a reasonable level of closure for the characters, but the Epilogue indicates that there is definitely more on the horizon for Finn and crew.
Content Analysis:
Profanity/Language: None
Violence/Gore: Brief chase scene involving magic, verbal threat; threat with sword; character feels threatened; animal scratches a character; struggle where character cuts with knife, kicks the groin, shoves, etc.; minor injuries in a fall; a few occasions where characters are pursued with intent of capture; character held against will by magic; destruction of property due to magical means; non-detailed magical duel involving lightening, changing objects, etc.; fight scene, no details; explosion and possible implied death by magical means.
Sex/Nudity: Adults kiss.
Mature Subject Matter:
Absent parent, severe illness of a parent.
Alcohol / Drug Use:
None
Reviewed By Cindy