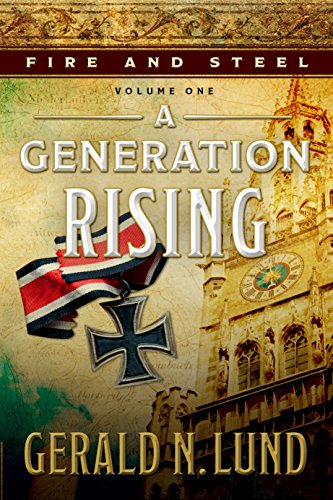 Publisher's Note:
From master storyteller Gerald N. Lund comes the next blockbuster historical fiction series, Fire and Steel, Volume One: A Generation Rising, blending the powerful stories of two families on different continents the Eckhardts in southern Germany and the Westlands in southern Utah. While their circumstances are as divergent as their geography, each family must cope with trials that test their courage and fortitude. Spanning more than sixty years, the series follows the Eckhardts and the Westlands through some of the most turbulent times in history, including World War I, the Great Depression, the rise of Nazi Germany, and the Second World War with its devastating aftermath.
In volume one, A Generation Rising, life could not be more promising for the Eckhardts. They finally have a son, Hans Otto Eckhardt the male heir they have longed for and a child of such brilliance and promise that his success seems certain. But as youthful Hans's ambition takes him Away from his family and their small Bavarian village, the winds of unrest in Europe are about to erupt into the greatest war the world has ever known.
At the edge of the lawless, western frontier in America, the Westland family struggles each day to survive. Harassed by Indians and plagued by cycles of drought and floods, life is dangerous and difficult, but young Bill Westland is determined to make a home for himself and his future family in the inhospitable land he has come to love.
United only by their determination to weather the storms of life together with their loved ones, the two families are destined to ultimately cross paths and become inextricably intertwined in the newest series from the unsurpassed bestselling author of LDS fiction.
This book was sent to Compass Book Ratings for review by Deseret Book
A Generation Rising
by Gerald N. Lund
Overall Review:
Gerald N. Lund begins a new series entitled Fire and Steel. The first book in this series is A Generation Rising. One question not answered in the introduction is how many books Lund plans to write. The series begins in Germany around the start of the twentieth century.
The characters keep readers interested and emotionally invested. Perhaps the worst part of the book was where it ends. Readers will not be satisfied and will want to know what is going to happen next. Lund admits that the second book will be about a family in America so readers should be prepared to not be satisfied until at least the third installment, when members of the two main families are expected to encounter one another.
Lund ends each chapter with a summary of what liberties he took with the facts and how he chose to use them to further his story. This is one of the best parts of the story. Getting to read a fiction story and gather some historical truths along the way really enhances the experience. This reviewer is certainly looking forward to reading more in subsequent installments of the Fire and Steel series.
Content Analysis:
Profanity/Language: 1 religious exclamation.
Violence/Gore: Report of annihilation of people during Holocaust; parent slaps a 17 year-old child; report of bombs and explosions; report of people being shot and killed; adult strikes another adult; a character grabs another; report of a man being beaten and kicked; report of a person being pushed down stairs inside of a footlocker; battle scenes in which people are shot and killed, only a couple mentions of blood; report of dead bodies all around; a man in impaled by 100 or so pieces of shrapnel.
Sex/Nudity: Word adultery mentioned; married and non-married characters kiss and embrace; a man removes his shirt to show his injuries.
Mature Subject Matter:
War, death of friends.
Alcohol / Drug Use:
Man reported to be a heavy drinker. Beer is served many times and in two instances, is served to a 17 year-old, which is legal in Europe at the time.
Reviewed By Susan