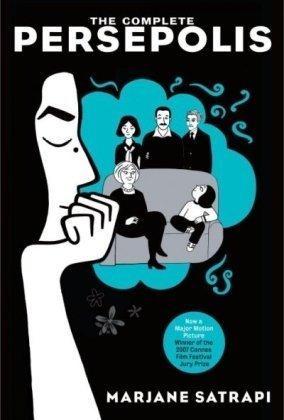 Publisher's Note:
Persepolis is the story of Satrapi's unforgettable childhood and coming of age within a large and loving family in Tehran during the Islamic Revolution; of the contradictions between private life and public life in a country plagued by political upheaval; of her high school years in Vienna facing the trials of adolescence far from her family; of her homecoming--both sweet and terrible; and, finally, of her self-imposed exile from her beloved homeland. It is the chronicle of a girlhood and adolescence at once outrageous and familiar, a young life entwined with the history of her country yet filled with the universal trials and joys of growing up. Edgy, searingly observant, and candid, often heartbreaking but threaded throughout with raw humor and hard-earned wisdom--Persepolis is a stunning work from one of the most highly regarded, singularly talented graphic artists at work today.

This book was sent to Compass Book Ratings for review by Pantheon Books
Persepolis
by Marjane Satrapi
Overall Review:
Marjane: "I wanted to be a prophet."
Grandmother: "Marjane, come here and help me stand up."
Marjane: "Don't worry, soon you won't have any more pain. You'll see."
Grandmother: "In that case, I'll be your first disciple."
Marjane: "Really?"
Grandmother: "But tell me how you'll arrange for old people not to suffer?"
Marjane: "It will simply be forbidden."

Persepolis is a deeply thought-provoking and genuine account of Marjane Satrapi, who grew up in the despair of the Iranian Islamic revolution--a war and cultural shift that ripped apart Iranian families and society. In describing the fundamentalist takeover of Iran, and the Satrapi family's experiences, Persepolis pushes the reader to carefully consider not only the ramifications of war on a society as a whole, but the impact that it has on a developing child.

Perhaps the most touching part of the book is the first half, which gives us the unique angle of a child's perspective during the cultural revolution: innocent, impressionable, and profoundly confused. To be allowed to slip inside the mind of Marjane, a precocious 10 year-old, and experience the thoughts, the quiet desperation, and the questions that she expresses over the revolution and death surrounding her, is authentic and enlightening.

In the true innocence that only a child possesses, Marjane recounts her search for God, for control in a repressive and forbidding society, for a connection with her war-torn family, and for a place in a world that denies what she has experienced. Finding herself pulled between identities, she realizes that she is "a westerner in Iran, and an Iranian in the west", and struggles to find herself amidst Iranian culture, the religion of Islam, and the appeal of Western society.

Marjane's loss of childhood, joined with parents (who adamantly insist that education is the sole key to freedom), and a government-enforced culture (that demands that religion is the only freedom), ultimately leads her to a personal conviction to learn for herself, and act on what she believes. Marjane Satrapi is brave enough to allow us this personal, openly honest glimpse into her experiences as a child who grew up in the midst of war and death, and it stands as a great reminder to all of us that life is invaluable, and that one person can make a difference.
Content Analysis:
Instances of profanity were found throughout the entire story with language found on almost every page. The language included religious exclamations, swear words, and strong coarse language. The first fourth of the book was, in general, free from profanity, but as the book progressed, instances became more routine. The use and amount of profanity in this book would make it inappropriate for anyone under the ages of 21.

Due to the fact that this books revolves around a cultural revolution and war, there are many instances of mild, moderate, and strong violence. For mild instances, two characters are slapped, talk of bringing "death to the king", a friend of a character comes back from fighting having lost limbs, mentions of group executions, and a man drowns. Moderate instances of violence include multiple violent demonstrations where people are shot or killed, a scene in which two women are executed, child soldiers and a discussion of the recruiting tactics used and the death or injuries they sustain in battle, and an instance when a man cuts himself on the head with a knife. Strong instances of violence include graphic examples of prisoner torture (including water techniques and dismemberment), two attempted suicides, and an instance where a man is murdered.

The first half of the book contains almost no sexual content. However, as the story progresses, there are large areas of the story involving sexuality, sexual intimacy, and relationships. Mild sexual content includes a crude sexual joke, a mention of women prostituting themselves, self-inflicted pain (slapping) lead by schoolteachers among female students, a young character mentions how her grandmother's bosom looks, a female character mentions that she had 8 homosexual roommates (just mentioned, nothing more), a character's boyfriend discloses that he is gay, and two brief discussions of sexual intimacy, birth control methods, and birth control pills. Moderate sexual content includes one mention of a rape occurring, an instance where woman tries (unsuccessfully) to urinate standing up, and when a character sprays perfume between her legs to be attractive. Strong sexual content includes a detailed story of a woman who is arrested and raped, and when a character overhears her roomate being sexually intimate with a man, and then sees the couple naked and makes a reference to sex and joke about male genetalia.

As for mature themes, the themes are strong and intended for an adult audience only. They include many moderate scenes of drug, tobacco, and alcohol use, attempted suicides, sexually intimate relationships, war, death, and religious fundamentalism, including the veiling of women.

Overall, the dialogue and storyline are very straightforward, but the use of graphics (although very simple) makes the impact of the above instances more powerful. Since most of the above instances were related to real life and war, this book definitely holds intrinsic value, and exposes readers to the life experiences of a young Iranian girl.

However, in the second half of the book, the instances of sexuality and profanities increased significantly, and we find all the instances of drug use. I would recommend that sensitive readers who are interested in experiencing this life-changing story get the first half of the book only, Persepolis: The Story of a Childhood (recommended for ages 18+), as it would definitely be a valuable read for anyone who would like to avoid the more explicit parts of the book.
Mature Subject Matter:
***
Alcohol / Drug Use:
***
Reviewed By Melissa