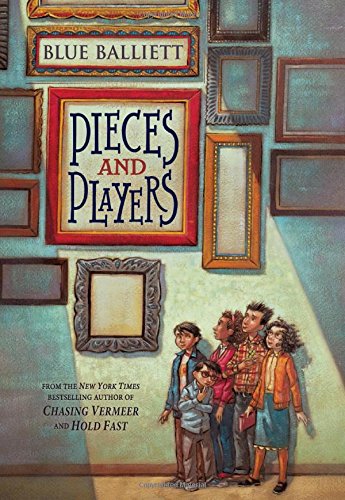 Publisher's Note:
From the NEW YORK TIMES bestselling author of CHASING VERMEER and HOLD FAST

THE PIECES
Thirteen extremely valuable pieces of art have been stolen from one of the most secretive museums in the world. A Vermeer has vanished. A Manet is missing. And nobody has any idea where they and the other eleven artworks might be . . . or who might have stolen them.

THE PLAYERS
Calder, Petra, and Tommy are no strangers to heists and puzzles. Now they've been matched with two new sleuths -- Zoomy, a very small boy with very thick glasses, and Early, a girl who treasures words . . . and has a word or two to say about the missing treasure.

The kids have been drawn in by the very mysterious Mrs. Sharpe, who may be playing her own kind of game with the clues. And it's not just Mrs. Sharpe who's acting suspiciously -- there's a ghost who mingles with the guards in the museum, a cat who acts like a spy, and bystanders in black jackets who keep popping up.

With pieces and players, you have all the ingredients for a fantastic mystery from the amazing Blue Balliett.
This book was sent to Compass Book Ratings for review by Scholastic
Pieces and Players
by Blue Balliett
Overall Review:
Descriptive without being too wordy is how Blue Balliett crafts her latest novel, Pieces and Players, starring her kid detectives. Not only does she expertly pull you into the mystery of stolen art work, but she throws in mentions of various artists, writers, architects and sculptors, introducing the readers to the humanities. She also makes you feel the awkwardness of being thirteen--insecurities, zits, voice-cracking, girl/boy awkwardness, and all.
Pieces and Players brings together five kid detectives, all thirteen years old, who have all played a part in one of Balliett's other four novels, but never all together. They are brought together to hopefully solve the mystery of the thirteen stolen pieces of art from a small museum in Chicago. The book stands alone; previous stories are mentioned in passing, but don't really play into this mystery. The reader not only gets to figure out who stole the art, but the reader also learns a lot about the arts, especially that found in Chicago. If you love mysteries and the humanities as well, Pieces and Players, along with Balliett's other books, is for you.
Content Analysis:
Profanity/Language: None
Violence/Gore: One secondhand account of a death by natural cause.
Sex/Nudity: 2 mentions of artwork depicting nude people.
Mature Subject Matter:
Death, theft, paranormal experiences.
Alcohol / Drug Use:
None
Reviewed By Sally