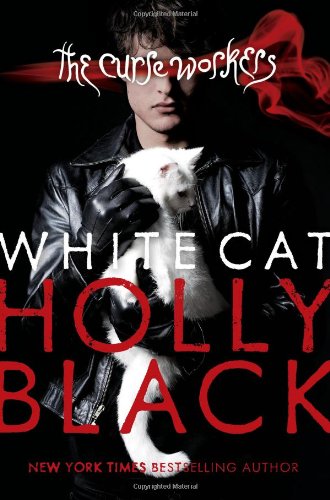 Publisher's Note:
The first in a trilogy, this gritty, fast-paced fantasy is rife with the unexpected. Cassel comes from a shady, magical family of con artists and grifters. He doesn't fit in at home or at school, so he's used to feeling like an outsider. He's also used to feeling guilty—he killed his best friend, Lila, years ago.

But when Cassel begins to have strange dreams about a white cat, and people around him are losing their memories, he starts to wonder what really happened to Lila. In his search for answers, he discovers a wicked plot for power that seems certain to succeed. But Cassel has other ideas— and a plan to con the conmen.
White Cat (The Curse Workers, Book 1)
by Holly Black
Overall Review:
Best selling author Holly Black, commonly known for co-writing the children series, The Spiderwick Chronicles, proceeds past middle grade readers into the YA scene with her independently written urban fantasy novel, White Cat (The Curse Workers, Book 1). The cat certainly didn't get Miss Black's tongue (or pen) when it comes to the first book in The Curse Workers trilogy, a delectable mash-up of The Sopranos and Supernatural. Several words beginning with the letter "M" begin to conjure themselves: malignant magic, murderous mobsters, mysterious missing memories, mischievous menage; it all sounds morbidly marvelous doesn't it?
Not hampered with abundant teenage melodrama, Miss Black strikes a nice balance of mythical fantasy in a contemporary setting. The author completely fades away and readers are taken in by charismatic protagonist Cassel Sharpe. Teenage Cassel narrates the novel with confidence and slick appeal even in the most dire of circumstances. The supporting cast is equally cultivated in their physical and non-physical traits. Of course the book is all the descriptive opinion of Cassel, but he does a masterful job of describing his reality of sordid family secrets, magically enhanced mafia members, and conniving criminal schemes all while trying to be a "normal" teen and attend his prestigious private school.
Not a fantasy with fairies, rainbows, and black and white character behavior, The Curse Workers Trilogy delves a bit deeper in the macabre while still being relatively good-natured about the subjects presented (given this is a book geared towards a general teen audience). With a slow start, the plot line begins to thicken towards the middle. With each scandalous scene, readers become more invested and captivated with Cassel and the high stakes odds he's been dealt. It's s long shot that readers will be able to predict the ending correctly, making book 2 in The Curse Workers series all the more bewitching to come by.
Content Analysis:
Profanity/Language: 3 religious exclamations; 9 mild obscenities; 1 religious profanity; 3 derogatory names; 11 scatological words; 10 anatomical terms; 1 offensive hand gesture.
Violence/Gore: The death/stabbing of a character is referenced to multiple times (around 10) throughout the book, each time getting more detailed in description, mention of blood; brief non-detailed mention of a character dying due to magic/curse, brief non-detailed report of violent actions being taken against a group of people; character briefly reads a disturbing mythological story which indicates violent action; somewhat comical scene in which a character almost falls off a roof, although it is an accident the subject of suicide is talked about; brief report of a character who can use their "magic" to physically hurt people; brief mention of injuries inflicted on people as part of a symbolic tradition, one of the areas of the body subjected to this injury is a private part; character comically threatens to kill themselves; character briefly recalls being pushed around and hit by another character; character briefly recalls shoving another character; characters pierce each others' ears, blood mentioned; extended scene (about 1 page) character cuts themselves as part of a protection ritual, blood mentioned; character briefly punches and kicks another character; brief recollection of character being shot at and not being harmed; brief non-descriptive scene of 2 characters being shot dead, blood mentioned; character is briefly kicked and punched into unconsciousness; character is slapped into consciousness; character threatens to kill; implication that characters use another character to harm people; character's arms are aggressively jerked; character tells another character they are planning on shooting someone; characters briefly cut into another character to remove an object, blood and pain mentioned; character briefly tells another character how his/her mother would cut him/her for a ritual, non-graphic; characters threaten to kill one another; extended scene (about ½ page) character is punched; brief non-descriptive scene character uses "magic" to kill another character.
Sex/Nudity: Character briefly reads a mythological story which indicates a character was nude (non-sexual); brief scene of character accidentally viewing pornographic images on a computer; brief report of characters kissing; character licks another character's ear; brief scene characters kiss somewhat descriptively; characters sees a mural of a naked male; brief descriptive kiss between characters; male and female character share a bed (non-sexual), female character is said to be wearing little clothing; sexual reference, "getting some" is used once; characters hold hands; brief mention of characters using a pornographic magazine to cut out ladies breasts; character steps outside the shower naked, characters check his/her body looking for certain markings; sexual reference, "open legs" is used once; extended scene (about ½ page) male minor and female minor kiss and touch each other in areas normally covered by bathing suits, mention of unbuttoning pants.
Mature Subject Matter:
Murder(ing), theft, gambling, con-artistry, prejudice/injustice against a group of people.
Alcohol / Drug Use:
Brief scenes in which adults and minors smoke and /or drink alcohol a few times (around 10) throughout the novel; character witnesses someone snorting cocaine.
Reviewed By MaryLou