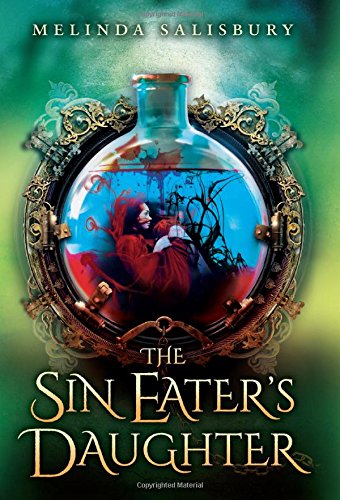 Publisher's Note:
Seventeen-year-old Twylla lives in the castle. But although she's engaged to the prince, Twylla isn't exactly a member of the court.

She's the executioner.

As the Goddess embodied, Twylla instantly kills anyone she touches. Each month, she's taken to the prison and forced to lay her hands on those accused of treason. No one will ever love a girl with murder in her veins. Even the prince, whose royal blood supposedly makes him immune to Twylla's fatal touch, avoids her company.
But then a new guard arrives, a boy whose easy smile belies his deadly swordsmanship. And unlike the others, he's able to look past Twylla's executioner robes and see the girl, not the Goddess. Yet Twylla's been promised to the prince, and knows what happens to people who cross the queen.
However, a treasonous secret is the least of Twylla's problems. The queen has a plan to destroy her enemies, a plan that requires a stomach-churning, unthinkable sacrifice. Will Twylla do what it takes to protect her kingdom? Or will she abandon her duty in favor of a doomed love?
This book was sent to Compass Book Ratings for review by Scholastic
The Sin Eater's Daughter
by Melinda Salisbury
Overall Review:
With the tag line, " I am the perfect weapon. I kill with a single touch", readers might just mistake this novel for a pilfered fantasy from author Tahereh Mafi's Shatter Me, but The Sin Eater's Daughter by Melinda Salisbury is a different breed all its own. A macabre novel is for a reader with an acquired taste, and so it is with this fable. With incestuous royals, murderous treason, and doomed love, it could almost be a Shakespearean play (minus the flowery theatrical rhetoric).
Readers are introduced to the fictional land of Lormere by teen protagonist Twylla, who lives in the castle, not as a princess, but as the executioner. Trapped by her position and resentful of the demented queen who put her there, Twylla tries to break free by freeing her heart, but as readers will come to see, Twylla and the queen are more alike than one would first think, eliciting a bitter dose of irony.
With bizarre rituals and customs that somewhat resemble religious ancient Greek traditions, while entwined with a European Tudor-like monarch, the author invents an incredible fantasy world in which readers can feast upon. What's fantasy without romance? Readers don't despair, there is plenty of romance to go around with two loves--one fated, the other forbidden.
Set to be a trilogy, the first book's epilogue ending establishes a firm foundation for the second book to build upon.
If you favor the Grimm fairy-tales to your Disney's "happily ever after", than The Sin Eater's Daughter might just satisfy your craving for a morbid narrative.
Content Analysis:
Profanity/Language: 9 religious exclamations; 8 mild obscenities.
Violence/Gore: Implication that prisoners are being tortured; 2x a character's arm is cut to draw blood for a ritual; brief scene in which character "kills" characters with his/her touch, mention of blood and twitching; character gives a brief account on how characters are tortured, mention of blood; character briefly recounts dogs hunting and killing a character, somewhat detailed with description of blood; implication of a violent death; reported acts of violence by royal character against servants; report of child character being hit by parent; report of an execution; brief mention of an herb induced abortion; implication of rape; report of death by accidental fall; character threatens another character; character hits, scratches, and bites another character; mention of a character who's tongue was cut out; character briefly tells a somewhat gruesome fable, blood and death mentioned; character threatens to kill self; character is hit in the head and knocked unconscious, then kicked by two characters, blood mentioned; 2x a character is slapped across the face by another character; brief retelling of characters having been beheaded.
Sex/Nudity: Mention of a child character helping their mother birth a child; characters briefly kiss and embrace a few times (less than 10); characters kiss, somewhat descriptive; characters kiss and rub each other's arms and face; characters briefly kiss and cuddle while sharing a bed (non-sexual activity); character sucks another character's lip; character kisses character's forehead 2x; 2 scenes imply that minor female character age between 16-17 and adult male character age between 18-19 engaged in sexual activity as they are described as laying together naked "afterward"; character walks in on two characters who are laying naked with one another, this incident is referred to a few (less than 5) times in the book; character uses a sexual reference, "opening your legs to another man"; character calls another character a slut (1x) and a whore (2x); character kisses character's hand; character suspects his/her siblings have different fathers; few mentions of interbred marriage.
Mature Subject Matter:
Murder, treason, tyranny, abortion, incest/interbreeding.
Alcohol / Drug Use:
Characters are served and drink alcohol a few times (no more than 10) throughout the book; mention of a drunk character being obnoxious.
Reviewed By MaryLou