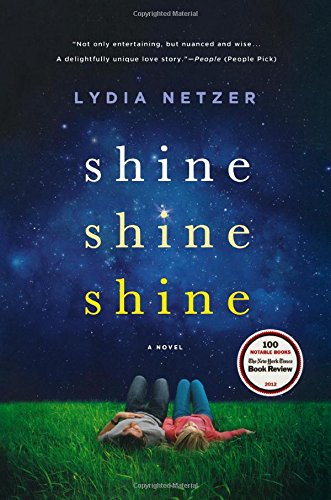 Publisher's Note:
A New York Times Notable Book!


"Over the moon with a metaphysical spin. Heart-tugging…it is struggling to understand the physical realities of life and the nature of what makes us human….Nicely unpredictable…Extraordinary." —Janet Maslin, The New York Times
When Maxon met Sunny, he was seven years, four months, and eighteen-days old. Or, he was 2693 rotations of the earth old. Maxon was different. Sunny was different. They were different together.
Now, twenty years later, they are married, and Sunny wants, more than anything, to be "normal." She's got the housewife thing down perfectly, but Maxon, a genius engineer, is on a NASA mission to the moon, programming robots for a new colony. Once they were two outcasts who found unlikely love in each other: a wondrous, strange relationship formed from urgent desire for connection. But now they're parents to an autistic son. And Sunny is pregnant again. And her mother is dying in the hospital. Their marriage is on the brink of imploding, and they're at each other's throats with blame and fear. What exactly has gone wrong?
Sunny wishes Maxon would turn the rocket around and come straight-the-hell home.
When an accident in space puts the mission in peril, everything Sunny and Maxon have built hangs in the balance. Dark secrets, long-forgotten murders, and a blond wig all come tumbling to the light. And nothing will ever be the same.…
A debut of singular power and intelligence, Shine Shine Shine is a unique love story, an adventure between worlds, and a stunning novel of love, death, and what it means to be human.
Shine Shine Shine is a New York Times Notable Book of 2012.
Shine Shine Shine
by Lydia Netzer
Overall Review:
What do you get when you take a man on the moon, a bald wife, an autistic child named "Bubber", and a whole lot of quirkiness? You get a one-of-a-kind book called Shine Shine Shine. I can hardly begin to explain the eccentricity of this book--it's like the weirdness never ended! I enjoyed it a lot though, despite all of the oddities.
Sunny, Maxon, and Bubber are the three main characters in this book. They are all quite intelligent, almost to the point of freakishness. Their intelligence played a pretty big part in this story, but I can't really pinpoint why. Maxon and Sunny are seemingly the perfect couple, and Bubber is obviously the product of their joined personalities and smarts. Maxon is a man who doesn't really understand social customs, and Sunny, his wife, is the epitome of a human anomaly--she was born bald and started making wigs when she was a teen (you can't tell me that's normal). Bubber spends his days at home with his mother, after being told he needs more medicine than his mother thinks is appropriate.
But what exactly is this book about? I had to ask myself that question for quite some time before I came to the conclusion that maybe I shouldn't question it. Maybe I should just let this book be what it is, and take it at that. I always enjoy a book that strays from the beaten path, one that is written in such a way that it leaves you wanting more from the author at the end. That is exactly how I felt when I finished this book. Readers who enjoy Sarah Addison Allen and Aimee Bender will most likely adore this book.
Content Analysis:
Profanity/Language: 7 religious exclamations; 7 mild obscenities; 2 religious profanities; 3 derogatory names; 9 scatological words; 7 anatomical terms; 32 F-Word derivatives.
Violence/Gore: A car crash occurs, no casualties; a character is on life support, dying from old age; a bloody gown is mentioned after a woman births a child; a woman and child are mentioned to have died during childbirth; a character is arrested and executed for being a missionary; a character verbally and physically abuses an animal in a brief scene; a character is removed from life support; a woman imagines violent tragedies befalling her child; a violent protest occurs, casualties are mentioned; a girl describes a man being violently abused and killed, some blood is depicted; a meteoroid hits a spaceship that is occupied by humans; a car accident with no injuries or casualties occurs; a man slaps his wife; a woman kicks a man in self-defense; a character abandons a dying character; a man speaks violently to his wife; an elderly character dies of natural causes; a man beats his son to teach a lesson in one brief scene; characters jump off a bridge for fun, but some die from injuries; a child-birthing scene that is quite descriptive is given; dead bodies are briefly described; a man rapes a girl, but the girl is slightly willing.
Sex/Nudity: Minors kiss; a man rapes a girl, but the girl is slightly willing; a woman is naked in front of her husband in one brief scene, sex is implied; an affair is had and a woman admits to having sex with a man who is not her husband; pigs are mentioned to be sexually active; minors "make out" in a brief scene; minors swim nude; minors undress each other in an extended scene, sexual innuendo is involved; a boy touches a girl in a sexual way; a girl touches a boy in a sexual way in an area normally covered by a bathing suit; minors are implied to be sexually active; porn is referred to in jest; sexual activity between adults without explicit detail occurs twice, one extended scene occurs.
Mature Subject Matter:
Death, personal crises.
Alcohol / Drug Use:
Woman smokes a pipe; smuggling whiskey is mentioned; a man is depicted drunk; minors drink vodka; meth use and manufacturing is mentioned; suspected drug use is mentioned.
Reviewed By Lydia