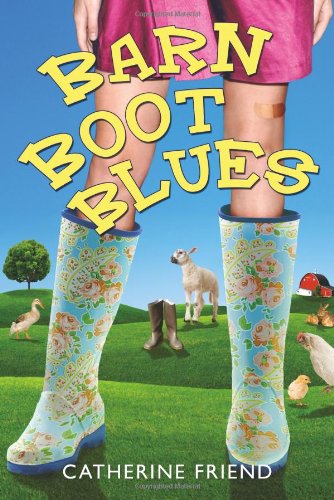 Publisher's Note:
Meet Taylor McNamara: She's twelve. She's a city girl. But her parents have just moved her to a sheep farm in the middle of nowhere. Meet the farm animals: 40 chickens, 20 sheep, 10 ducks, and 4 goats, one of which can pee on his own head. Meet the principal and kids in Taylor's new school: Kids tease her about her ugly barn boots and the chicken poop in her hair, yet they admire her pluck. Taylor struggles to adapt to her new life, but finds it hard to adjust to the farm's daily surprises, especially those that prove to be embarrassing at school. With the help of her friend Megan, Taylor embarks on a nearly disastrous plan to move her family back to the city. But one lonely night, in the barn, Taylor discovers that farming isn't all bad.
Barn Boot Blues
by Catherine Friend
Overall Review:
Discombobulated...that's the word Kate uses to describe her life as she finds herself now living on a farm in the middle of nowhere. Her parents decided to move from the big city of Minneapolis to a farm, where they will now be taking care of sheep, goats, ducks and chickens. As for Kate, she needs to learn to navigate life on the farm while also making new friends at her new school. However, the farm seems to have it in for her and is making that task harder than it should be. Each day seems to bring on a new mishap that seems to set Kate's mindset against that of her parents' decision to move to a farm. She wants to go back to her old life no matter what and hopefully that will help her feel less discombobulated.
Or will it? In Barn Boot Blues author Catherine Friend takes us on a journey from city to farm, resentment to acceptance, and loneliness to friendship. Like all journeys it has bumps in the road, unseen twists and something nice at the end of it. This journey is a fun one that gives the reader a glimpse into life on a farm (somewhat autobiographical for the author as she lives on a farm in Minnesota) as well as life as the new kid in a new school.
Content Analysis:
Profanity/Language: None
Violence/Gore: None
Sex/Nudity: None

Mature Subject Matter:
None
Alcohol / Drug Use:
None
Reviewed By Sally