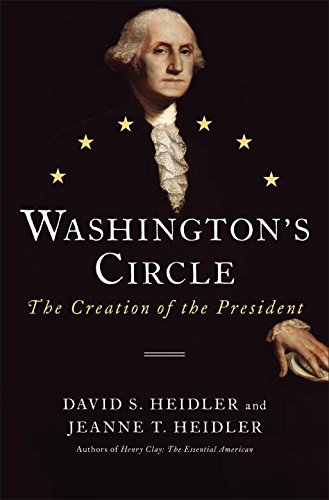 Publisher's Note:
History enthusiasts and admirers of Team of Rivals will rejoice in this magisterial account of the extraordinary Americans who served the nation's first chief executive: Together, they created the presidency for a country disgusted by crowns and the people who would wear them.

In 1789, as George Washington became the first president of the United States, the world was all but certain that the American experiment in liberty and representative government would founder. More than a few Americans feared that the world was right. In Washington's Circle, we see how Washington and his trusted advisers, close friends, and devoted family defied the doomsayers to lay the foundation for an enduring constitutional republic. This is a fresh look at an aloof man whose service in the Revolutionary War had already earned him the acclaim of fellow citizens. Washington was easy to revere, if difficult to know.

David S. Heidler and Jeanne T. Heidler reveal Washington's character through his relationship with his inner circle, showing how this unlikely group created the office of the presidency. Here is a story of cooperation, confrontation, triumph, and disappointment, as the president, Congress, and the courts sorted out the limits of executive power, quarreled over funding the government, coped with domestic strife, and faced a world at war while trying to keep their country at peace.

Even more, it is a story of remarkable people striving for extraordinary achievements. Many of these characters are familiar as historic icons, but in these pages they act and speak as living individuals: the often irked and frequently irksome John Adams, in the vice presidency; the mercurial Alexander Hamilton, leading the Treasury Department; the brilliant, deceptively cunning Thomas Jefferson, as secretary of state; James Madison, who was Washington's advocate—and his eyes and ears—in Congress; and Washington's old friend and former brother-in-arms Henry Knox, at the administration's beleaguered War Department. Their stories mingle with those of Edmund Randolph, John Jay, Gouverneur Morris, and the others who stood with a self-educated Virginia farmer to forge the presidency into an institution protective of its privileges but respectful of congressional prerogatives.

Written with energy, wit, and an eye for vivid detail, Washington's Circle is the fascinating account of the people who met the most formidable challenges of the government's earliest hours with pluck, ability, and enviable resourcefulness. When the world said they would fail, they rolled up their sleeves. This is their story.
This book was sent to Compass Book Ratings for review by Random House
Washington's Circle: The Creation of the President
by David S Heidler & Jeanne T Heidler
Overall Review:
Washington's Circle: The Creation of the President by David S. Heidler and Jeanne T. Heidler covers a large number of weighty topics and sheds light on many of the key players in the early government of the United States. Those looking for a glorious recounting of Washington's triumphs during the Revolutionary War should look elsewhere.
The book is a fascinating study of varying personalities and political perspectives. It shows how Washington and others were influenced by their past experiences, but also molded by those with whom they interacted on a daily basis. The authors carefully avoid portraying George Washington as a perfect man who performed impeccably as the first president of the United States of America.
The descriptive language is sometimes humorous, but also serious in depicting the human frailties. One of the great descriptions of the book indicates a person was "a man who resembled a monkey and painted like one." The book not only gave insight into the political views of the day, but also the health hazards prevalent during the late 1700s-early 1800s.
One negative aspect of the book is the section on Benedict Arnold. In the introduction, the authors specifically indicate they will not be addressing Revolutionary War exploits, but will instead focus on those items occurring during Washington's Presidency. They stick to their promise by limiting past events to a paragraph or two. Then, in the chapter including Arnold, the writers spend several pages describing Arnold's past.
Although reviewer time was not taken to verify the facts of the piece, there are many notes and references pointing interested readers to the sources of the information. The authors took time to research and address many interesting facets of post-revolutionary America and readers will certainly learn at least one thing they did not know previously.
Review of an Advance Reader Copy.
Content Analysis:
Profanity/Language: 11 religious exclamations; 2 derogatory names.
Violence/Gore: Report of person ordering dogs to be hung; report of rocks being thrown and brick bats being used during a riot; people were killed by muskets during war; report of dismembered body parts being seen; report of bloody footprints in the snow; report of a surgery discussing use of a scalpel, but not blood; a few mentions of old medical practice of bleeding patients; character is concerned about another character contemplating suicide; report of a character's head on a pike and the rest of the body being drug across the ground; reference to a man accidentally shooting off his own two fingers; report of a character being hatcheted and his brains squished in a person's hands; a few mentions of beheadings with the guillotine; report of a home burned by arsonists; report of a child killing baby birds.
Sex/Nudity: Prostitutes, brothels and ladies of the night mentioned; references to illegitimate children; discussions of marital infidelity and sexual dalliances; report of a naked body, non-sexual; characters have mistresses; a person wanted more than money and another obliged, an obvious sexual implication.
Mature Subject Matter:
War, slavery, marital infidelity, terminal illnesses, death of children, spouses.
Alcohol / Drug Use:
Report of one character having a complexion of a drinker; parties with lots of alcohol; adult characters consume rum and whiskey; many characters referred to as alcoholic or having drinking problems; people get tipsy at a dinner party.
Reviewed By Susan