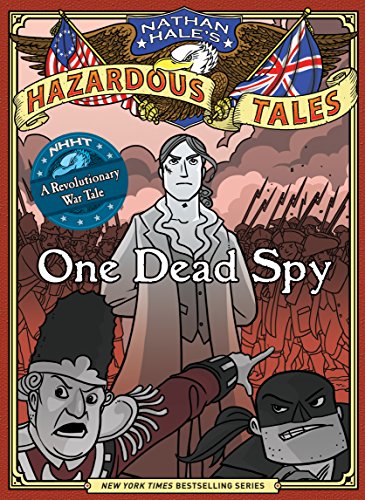 Publisher's Note:
Nathan Hale, the author's historical namesake, was America's first spy, a Revolutionary War hero who famously said "I regret that I have but one life to give for my country" before being hanged by the British. In the Nathan Hale's Hazardous Tales series, author Nathan Hale channels his namesake to present history's roughest, toughest, and craziest stories in the graphic novel format.
One Dead Spy tackles the story of Hale himself, who was an officer and spy for the American rebels during the Revolutionary War. Author Hale highlights the unusual, gruesome, and just plain unbelievable truth of historical Nathan Hale—from his early unlucky days at Yale to his later unlucky days as an officer—and America during the Revolutionary War.
One Dead Spy
by Nathan Hale
Overall Review:
One Dead Spy by Nathan Hale is the first of a series of graphic novels looking at various American historical events. For a graphic novel, this book contains an impressive amount of historical information and feels quite substantive. The book is narrated by the spy, Nathan Hale, who is about to be hung for his crimes against England. He is telling his story and the story of the early days of the Revolutionary War to his hangman and an English officer. Then hangman provides the comic relief and in a subtle way, the English officer gives a small voice to the other side--and there is always another side. The illustrations are mostly in sepia tones with red accents and are engaging; there is a great section of historical notes at the back. This was an impressive graphic novel that shows that in the right hands this medium is an excellent way to reach young readers. A fabulous read for boys, history fans, and those looking to enhance classroom coverage of the Revolutionary War, One Dead Spy is strong enough to even appeal to those who aren't normally fans of the graphic novel.
Content Analysis:
Profanity/Language: 1 religious exclamation; 3 mild obscenities. (All are direct historical quotes.)
Violence/Gore: Report that individual lost fingers playing with guns; reports of prisoners of war starving and dying; animal killed by artillery; soldiers killed by lightening; fist fight in a tavern; Americans shoot at British scouts and it is unclear if they killed them; depiction of a battle and death of a leader (brief, non-graphic); summaries of what happened at Battle of Boston, Battle of Bunker Hill, Battle of Long Island, Boston Massacre (non-graphic); historical note at back states how various historical figures died.
Note: Illustrations were all non-graphic in nature.
Sex/Nudity: None
Mature Subject Matter:
War, death, spying.
Alcohol / Drug Use:
Soldiers drink.
Reviewed By Cindy