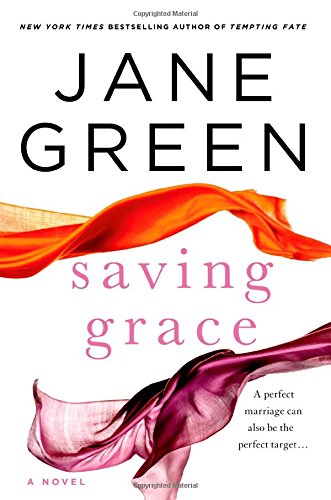 Publisher's Note:
Grace and Ted Chapman. Literary power couple. Ted is considered "the thinking man's John Grisham" and Grace, his wife of twenty years is beautiful, stylish, carefree. All of this is on the surface. Beneath, what no one sees, is Ted's rages. His mood swings. And the precarious house of cards that their lifestyle is built upon. When Ted's longtime assistant and mainstay leaves, the house of cards begins to crumble and Grace, with dark secrets in her past, is most vulnerable. To the rescue comes Beth, a new assistant. Someone who will help handle Ted. Someone who has the calm efficiency to weather the storms that threaten to engulf their household. Soon, though, it's clear to Grace that Beth might be too good to be true. And that this new interloper might be the biggest threat of all, one that could cost Grace her marriage, her reputation, and even her sanity.
Saving Grace
by Jane Green
Overall Review:
I've been reading Jane Green's books off and on since I first discovered them several years ago. The first few that I "read" I actually listened to the audiobook version. Maybe it was the narrator, or just Ms. Green's way of writing, but I fell in love. Jane Green went right onto my "favorite authors" list. A few years later, and I find myself not quite so impressed with Saving Grace, Jane Green's newest novel. Much of this book seemed to be just literary filler and fluff, nothing with very much substance. I suppose if I wanted a mindless read, this would be an okay thing, but sometimes I yearn for a bit more, and this book just didn't cut it for me.
One of the things that really bothered me was the shallowness of all the characters. (Or maybe they were just very composed in their attitudes?) If I were character Grace Chapman, wife of the esteemed author Ted Chapman, I would stand up more for myself when someone treated me badly or talked negatively about me. Grace seemed to be the type of person who let things slide off her back, not caring what the world thinks, but I think beneath this mask she really felt every jab that came her way. Being in the public eye so much, she has to be somewhat used to the things people say not always being pleasant.
Off and on throughout this book there are recipes thrown in, something that in previous books by Ms. Green didn't bother me much, because they seemed relevant to the story. In Saving Grace however, food and recipes just didn't seem to click with the rest of the storyline, and I found myself wishing the recipes had been left out. All in all, this book was a mindless read that could have been perfect for one of those blah days where you just need something to entertain you for a bit. I hope Jane Green finds her way back to her roots with her writing style for her next book though, as I missed her humor-filled, smart writing I had come to know.
Content Analysis:
Profanity/Language: 16 religious exclamations; 22 mild obscenities; 10 religious profanities; 4 derogatory names; 1 scatological word; 2 anatomical terms; 10 F-Word derivatives.
Use of "bloody" as a profanity not tallied.
Violence/Gore: A man yells at a woman, she is frightened of him and feels threatened; a mention of a "bad childhood"; a shelter for battered women, those with pasts of drug or alcohol abuse is mentioned; a woman mentions her mother died; violence is implied in a conversation about animals.
Sex/Nudity: A man kisses a woman's hand; a couple lives together before marriage; a woman is referred to as "sexy"; a man initiates sex, but his wife observes there is no desire or passion; a man and woman are mentioned to make love (no scene); women have a discussion about breasts; a woman looks at her nude body in the mirror, notices her curves and body shape, breasts are briefly described; a woman considers her body and wonders if her husband finds her attractive; a woman finds her husband with another woman, they are kissing and being physically intimate in one brief scene; a married woman kisses a man and fantasizes about living with him; a woman is mentioned to have a "passionate affair".
Mature Subject Matter:
Death of a parent, mental illness, divorce, marriage infidelity, verbal spouse abuse.
Alcohol / Drug Use:
A woman pours a man a glass of wine; adults drink casually.
Reviewed By Lydia