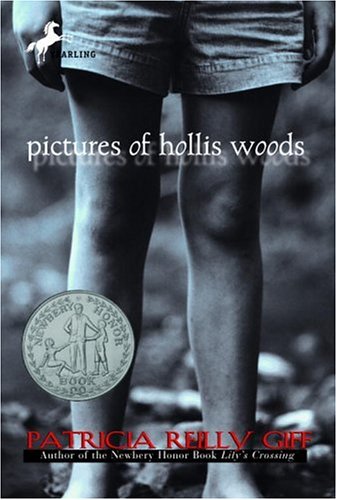 Publisher's Note:
Hollis Woods has been in so many foster homes she can hardly remember them all. She even runs away from the Regans, the one family who offers her a home. When Hollis is sent to Josie, an elderly artist who is quirky and affectionate, she wants to stay. But Josie is growing more forgetful every day. If Social Services finds out, they'll take Hollis away and move Josie into a home. Well, Hollis Woods won't let anyone separate them. She's escaped the system before; this time, she plans to take Josie with her. Yet behind all her plans, Hollis longs for her life with the Regans, fixing each moment of her time with them in pictures she'll never forget.
This book was sent to Compass Book Ratings for review by Yearling (A Random House Children's Imprint)
Pictures of Hollis Woods
by Patricia Reilly Griff
Overall Review:
Do you ever read a book so good that it makes you want to rush out immediately and read everything that author has ever written? Pictures of Hollis Woods is one of those books. Hollis Woods is an orphan, left in a suburban neighborhood, called Holliswood, as a baby. All she's ever wanted is a family, but the adults in her life describe her as "a mountain of trouble." Can she learn to be a part of the family she's always wanted, or is she doomed to repeat all her past mistakes? Pictures of Hollis Woods is the kind of book that left a smile on my face and a feeling of contentment in my heart long after I'd finished reading it. Although much of the subject matter is tough, Giff has an incredibly sweet and gentle voice, and it's easy to grow to love Hollis Woods. Watching Hollis learn to allow herself to be loved reminded me how sweet the love in my own life is! Themes of forgiveness, family, love, acceptance, and growth make this a must-rea
Content Analysis:
There is no profanity or sexual content in this book.
There is very mild violence—a girl slips and falls on a mountain trail, injuring herself; there is a truck accident that injures two children. Nothing is described in detail.
Mature Subject Matter:
Mature themes consist of abandonment and neglect, foster care, and rebelliousness (a girl skips school repeatedly). Everything in the novel is handled extremely gently.
Alcohol / Drug Use:
***
Reviewed By CindyB