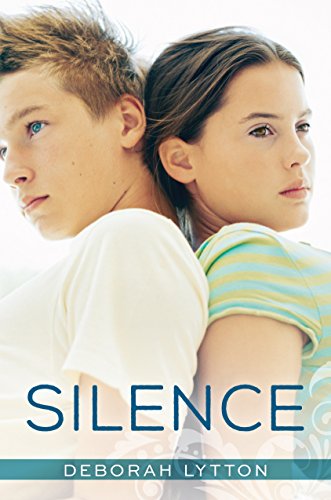 Publisher's Note:
Love Is Not Blind, It is Deaf.
Stella was born to sing. Someday Broadway. Even though she is only a sophomore at a new high school, her voice has given her the status as a cool kid. But then a tragic accident renders her deaf. She cannot hear herself sing not to mention speak. She cannot hear anything. Silence. What happens when everything you have dreamed of and hoped for is shattered in a single moment?
Enter Hayden, the boy with blonde curls who stutters. He is treated like an outcast because he is not normal. And, yet, Stella feels an attraction to him that she cannot explain. As Hayden reaches out to help Stella discover a world without sound his own tragic past warns him to keep a distance. But their connection is undeniable. Can the boy who stutters and the girl whose deaf find a happily-ever-after?
SILENCE is a story of friendship and hope with a lesson that sometimes it takes a tragedy to help us find beauty and love in unexpected places.
This book was sent to Compass Book Ratings for review by Shadow Mountain
Silence
by Deborah Lytton
Overall Review:
Stella is finally being noticed, but all her hopes and dreams are about to be questioned as her life comes to a screeching halt. Sometimes silence speaks louder than words. The plot of Silence is quite compelling and seeing the journey that the two main characters, Stella and Hayden, go on together and individually is interesting to watch unfold.
Deborah Lytton did such a good job with the characters in the book. They felt authentic and even those who weren't my favorite characters (due to their actions) were created in such a way to be disliked but credible. Silence is told from two different perspectives as the chapters switch between Stella and Hayden. It reminded me of Ally Condie's Crossed for that reason. This added more depth to the story because the reader was able to see what was going on in both characters' heads. Lytton's beautiful poetic writing reminded me a lot of Sharon Shinn and Tehereh Mafi's novels--full of eloquent sensory language and expressive metaphors. The story is about teenagers in high school so readers who are either in that stage of life, those who will be soon, or even those who might like to remember the good ol' days will enjoy this excellent book.
Review of an Advance Review Copy
Content Analysis:
Profanity/Language: None

Violence/Gore: A few (8) brief incidents including character has nightmare about dying; character wants to hurt self; a few second hand reports of child being abused by mother; violent story; second hand report of character dying; character hits head and is unconscious.
Sex/Nudity: Many (36) brief incidents including flirting; characters holding hands and kissing while acting in play; character getting carried; holding hands; kissing; touching face, hand and arm; arm around waist; hug; dancing.
Mature Subject Matter:
Mention of character dying of cancer, child abuse.
Alcohol / Drug Use:
None
Reviewed By Jenny