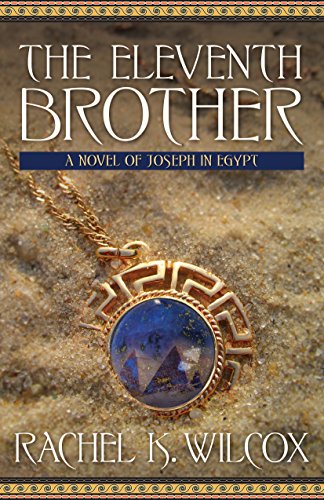 Publisher's Note:
When Joseph, the eleventh son of Jacob, is sold into bondage by his brothers, Egypt is a land in turmoil its fortune determined by the unpredictable rains that either bring prosperity or leave the people in famine and starvation. But Joseph is no common slave. Imprisoned and forgotten by all but God, he interprets a dream that reveals the future and alters his destiny. Now with his privileged Egyptian-born wife, Asenath, at his side, Josephs transformation from the boy in the pit to the ruler of Egypt is nearly complete. But position and power cannot erase the bitterness he holds deep inside. When he suddenly comes face to face with the family that betrayed him, Joseph devises a plot to test his brothers' true character. Yet even revenge may not fill the aching hole in Josephs heart, and the influence of a beautiful woman may be his only hope for redemption.
This book was sent to Compass Book Ratings for review by Deseret Book
The Eleventh Brother
by Rachel K. Wilcox
Overall Review:
The Eleventh Brother is compelling religious fiction. First time novelist Rachel K. Wilcox takes the well-known biblical story of Joseph in Egypt and retells it with authenticity and stirring emotion. Well-researched, the tale focuses on Joseph meeting his brothers in Egypt years after they sold him into slavery. Several flashbacks of Joseph's early life are included, as well as beliefs, customs and culture from Egypt during the time period. Wilcox does a remarkable job of humanizing the story, giving voice to Joseph's wife and other members of his family who traditionally aren't part of the story. A few fictional characters are also added to the tale. Each chapter in the book is thoughtfully marked with scripture references and the informative "Note to the Reader" will help separate fact from fiction. The Eleventh Brother is a fantastic read and a good book recommendation for friends and family.
Content Analysis:
Profanity/Language: None
Violence/Gore: Secondhand reports of violence involving the myth of Isis and Osiris; a few brief scenes with violence where characters are physically beaten and a character is thrown down a well and left to die.
Sex/Nudity: A few incidents of kissing; a few sexual references and a reported incident of rape.
Mature Subject Matter:
Death of family member, infidelity, jealousy.
Alcohol / Drug Use:
A character mentions that servants had "too much beer".
Reviewed By Rachel