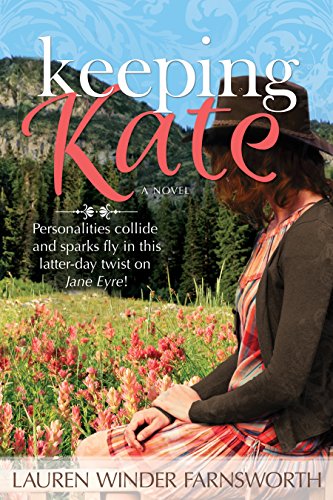 Publisher's Note:
Orphan Kate Evans is determined to make a life for herself on a Utah ranch, taking care of a little girl named Addie. But when she meets her irritable employer, Kate is forced to confront the past she's been running from and face a future she never dreamed possible. This latter-day twist on the classic Jane Eyre is a romantic and gripping read.
This book was sent to Compass Book Ratings for review by Cedar Fort
Keeping Kate
by Lauren Winder Farnsworth
Overall Review:
Professional reviews are written in a non-personal manner, but in reality, theses reviews are observations and opinions of the reviewers. The rating of Keeping Kate by Lauren Winder Farnsworth comes from this reviewer's dislike of the ending. The novel is a self-proclaimed modernization of Jane Eyre and as such, readers know how it will end. Those who are fans of that classic tale will enjoy this version, especially if you are a member of The Church of Jesus Christ of Latter-Day Saints. Readers should note that this novel is heavily loaded with doctrine and practices of the Mormon church.
Farnsworth develops the personality of Kate, the main female character quite thoroughly. What seems to be lacking was an equal development of Tyler, one of the other main characters. He seems rather flat and mostly depicted as the object of an obsession. Reading a book patterned after Jane Eyre, gives away the basic plot of the story, but it was hard to buy into the ending as a happy one, because the author spent nearly half the book developing the relationship between Kate and Jonathan. And, truth be told, this reader was rooting for a drastic change in the ending. The author does add a very brief epilogue attempting to wrap up all loose ends in one page.
The secondary characters of the novel are varied and interesting. In many ways, it would have been nice to have the author promise a novel or two exploring their lives. People who wish Jane Eyre could happen today will enjoy thinking about the "what ifs" presented in this book. Be prepared for emotional, sentimental and romantic entanglements and this book will meet or exceed expectations.
Content Analysis:
Profanity/Language: None
Violence/Gore: Mention that a character's scars were cause by her cousin; character has "hamburger" skin following being struck by a car; character jests that another wants her to hold a gun to someone's head.
Sex/Nudity: Married and non-married characters kiss, embrace, hold hands; One extended scene of passionate kissing; report of a character catching spouse with another man; references to intimacy, sex and abstinence.
Mature Subject Matter:
Death of parents, death of spouse, adultery.
Alcohol / Drug Use:
Adult consumes alcohol with a meal.
Reviewed By Susan