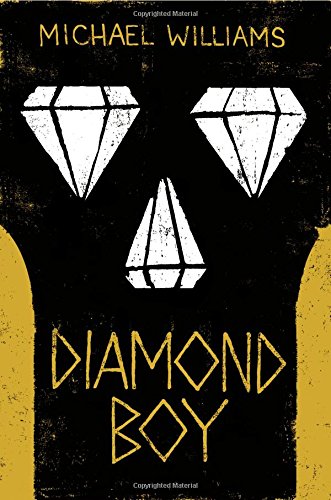 Publisher's Note:
My father says that a journey should always change your life in some way. Well, when you have nothing, I suppose a journey promises everything.
"Diamonds for everyone." That's what fifteen-year-old Patson Moyo hears when his family arrives in the Marange diamond fields. Soon Patson is working in the mines along with four friends, pooling their profits for a chance at a better life. Each of them hopes to find a girazi, a priceless stone that could change their circumstances forever. But when the government's soldiers come to Marange, Patson's world is shattered.
Set against the backdrop of Zimbabwe's brutal recent history, Diamond Boy is the story of a young man who succumbs to greed but finds his way out through a transformative journey to South Africa in search of his missing sister, in search of freedom, and in search of himself.
A high-stakes, harrowing adventure in the blood-diamond fields of southern Africa, from the critically acclaimed author of Now Is the Time for Running.
Diamond Boy
by Michael Williams
Overall Review:
I don't usually read books about topics that aren't interesting to me, but sometimes I hear so may positive things about a book that I pick it up anyway. This was the case with Diamond Boy. I really didn't know what to expect, but I feel like I came away with a new knowledge of the diamond trade, what a risk it is to mine them, and how life is lived in Africa.
Here in America, a diamond is an expensive thing, but not something necessarily "precious". We have turned a diamond into something that is almost expected in an item of jewelry, and this doesn't only include women. In reading this book I learned about the legality of mining on land that isn't yours, and how violent this job can be. Patson, the protagonist in Diamond Boy goes from an innocent life filled with school, a budding romance with a girl, and cross-country. Never could he have imagined in his wildest dreams the adventure that awaits him and his family when they move to another African town to find their wealth mining diamonds.
Often in Africa kids are hired to mine right alongside their parents. Can you imagine if you walked into the mechanics or the dentist's office and were greeted by a mixture of adults and children working there? It may seem like a laughable thing, but in the business of mining for diamonds, it is typical, and quite serious. One thing I really enjoyed about this book was how Patson found special meanings behind some of the most typical things. It was like he lived in awe of everyday life. I think the most important lesson I took away from this book as to be thankful for the life I have here in America, and the freedom I take for granted every day!
Content Analysis:
Profanity/Language: 1 religious exclamations; 1 scatological word; 5 anatomical terms; 2 F-Word derivatives.
Violence/Gore: A character is mentiond to have died; a character threatens to kill a group of people; verbal threats are made several times; a brief violent scene is described involving threats with a gun, gunshots and screams heard; a man physically disciplines a boy to teach him a leasson; a head wound is briefly described with minimal description of blood; a character is beaten by soldiers in one brief scene; a character is mentioned to die in a car crash; a man is injured by a soldier in one violent scene; a character is shot and killed in one brief scene; a character is beaten and dies as a result of the beating, his dead body and other dead bodies are briefly described; a boy steps on a land mine and his foot is blown off, his injuries are described in some detail; a group of people are shocked by an electric fence; an animal is mentioned to kill people (no description) and body parts are described to be seen scattered on the ground; two brief scenes of people being chased by government officials; a girl is kidnapped and feared to have been sold into slavery.
Sex/Nudity: A woman is seen dancing in a sexually pleasing way for a man who is not her husband; sex is implied once between a man and a woman; a woman is mentioned to be wearing only short shorts and a bra; a man pats down a woman and makes a crude joke; minors kiss once.
Mature Subject Matter:
War, death, AIDS, personal crises, child labor, diamond trade.
Alcohol / Drug Use:
Adults smoke; medical marijuana use is mentioned a few times; adults drink.
Reviewed By Lydia