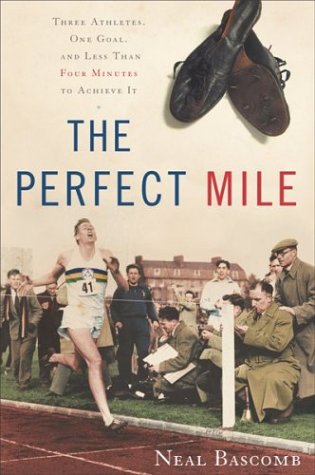 Publisher's Note:
There was a time when running the mile in four minutes was believed to be entirely beyond the limits of human foot speed. And in all of sport it was the elusive holy grail. In 1952, after suffering defeat at the Helsinki Olympics, three world-class runners set out individually to break this formidable barrier. Roger Bannister was a young English medical student who epitomized the ideal of the amateur -- still driven not just by winning but by the nobility of the pursuit. John Landy was the privileged son of a genteel Australian family, who as a boy preferred butterfly collecting to running but who trained relentlessly in an almost spiritual attempt to shape his mind and body to this singular task. Then there was Wes Santee, the swaggering American, a Kansas farm boy and natural athlete who believed he was just plain better than everybody else.
Santee was the first to throw down the gauntlet in what would become a three-way race of body, heart, and soul. Each young man endured thousands of hours of training, bore the weight of his nation's expectations on his shoulders, and still dared to push to the very limit. Their collective quest captivated the world and stole headlines from the Korean War, the atomic race, and such legendary figures as Edmund Hillary, Willie Mays, Native Dancer, and Ben Hogan. Who would be the first to achieve the unachievable? And who among them would be the best when they raced head to head? In the answer came the perfect mile.

In the tradition of Seabiscuit and Chariots of Fire, Neal Bascomb delivers a breathtaking story of unlikely heroes and leaves us with a lasting portrait of the twilight years of the golden age of sport.
The Perfect Mile
by Neal Bascomb
Overall Review:
The Perfect Mile is a remarkable and inspiring read. Author Neal Bascomb introduces readers to three amateur athletes who attempt to run under a four minute mile. Bascomb meticulously recounts the men's training, failed attempts, heartbreak and sorrow. When one runner finally breaks the record, the emotion practically leaps off the page.
The Perfect Mile is well-written and easy to follow despite lots of interesting information and facts. Bascomb not only explores the lives of the three racers and their journey, but explains the running and exercise theories of the time. Ideas like Fartlek speed trials, yoga and barefoot running were considered insane while most believed too much training could result in untimely death. With themes of patriotism, discipline, athleticism and hard work, The Perfect Mile is a easy book to recommend. Fans of Unbroken and The Boys in the Boat especially need to pick up a copy!
Content Analysis:
Profanity/Language: 8 mild obscenities; 1 scatological word; 1 anatomical term.
Violence/Gore: A few second hand reports of violence involving child abuse; an athlete accidently cuts his foot, causing a non-life threatening injury; a character is hit.
Sex/Nudity: One incident of kissing and one reference to abstinence.
Mature Subject Matter:
Family estrangement.
Alcohol / Drug Use:
Characters drink; one character frequently smokes; a father is described as an alcoholic.
Reviewed By Rachel