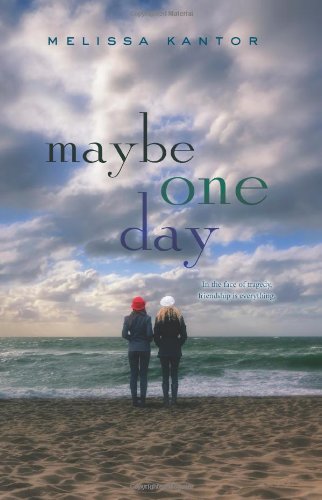 Publisher's Note:
In the tradition of The Fault in Our Stars, critically acclaimed author Melissa Kantor masterfully captures the joy of friendship, the agony of loss, and the unique experience of being a teenager in this poignant new novel about a girl grappling with her best friend's life-threatening illness.
A person's whole life, she's lucky to have one or two real friends. Friends who are like family . . . for Zoe that someone is Olivia. So when Olivia is diagnosed with leukemia Zoe is determined to put on a brave face and be positive for her best friend.
Even when she isn't sure what to say.
Even when Olivia misses months of school.
Even when Zoe starts falling for Calvin, Olivia's crush.
The one thing that keeps Zoe moving forward is knowing that Olivia will beat this, and everything will go back to the way it was before. It has to. Because the alternative is too terrifying for her to even imagine.
Maybe One Day
by Melissa Kantor
Overall Review:
If you recently read The Fault in Our Stars and you haven't cried your eyeballs out enough, then this book is for you. Though it doesn't have quite the same feel (not as much romance between the characters), it holds some of the same ideas: teenagers, cancer, survival, and heart-wrenching reality. It can be so easy to think that a book is just a book, that the stories we read aren't reality, so even if they are sad, we don't really have to feel bad. Not true. Sometimes fiction is so close to reality that it is almost fact.
In Maybe One Day I felt like the author did a wonderful job of portraying the story of two best friends who have always been partners in crime. They attend school together, they go to the same dance class, they hang out with the same group of friends, and then one day, all of that changes, though it isn't the fault of either of them. I could feel the emotions of both Zoe and Olivia so clearly, that it felt as if I were a fly on the wall of their houses, school, and neighborhood hangouts. I've read several books recently about teens and cancer (all of them fiction), and I have to say that this is one of the best so far. Although this book has a target audience of teen readers, I enjoyed reading it just as much as any adult book I have picked up this year. Adult readers, don't be afraid to venture into the teen section at your local bookstore or library, you never know what you might find!
Content Analysis:
Profanity/Language: 3 religious exclamations; 6 mild obscenities; 5 religious profanities; 3 derogatory names; 8 scatological words; 1 anatomical term; 1 offensive hand gesture; 17 F-Word derivatives.
Violence/Gore: A teenager dies from cancer.
Sex/Nudity: Minors kiss several times; minors dance at a party and are mentioned to be "grinding" on each other; a minor girl attempts to undress a boy as a prelude to what might be sex; two minors are mentioned to be "making out"; a girl refers to a boy as "hot"; a minor boy and girl lay in bed together undressed in an intimate way; a minor girl laments dying a virgin several times.
Mature Subject Matter:
Cancer, underage drinking, death.
Alcohol / Drug Use:
Minors drink alcohol at a party; minors are mentioned to be drunk at a party.
Reviewed By Lydia