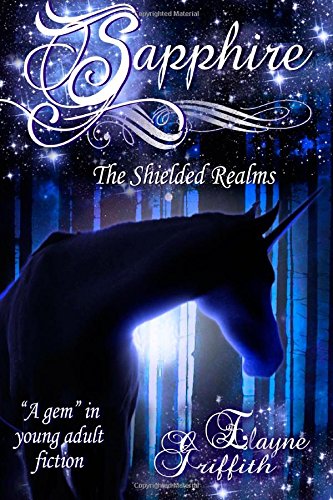 Publisher's Note:
"There was a flash of light, the ground quaked, and suddenly a large silhouetted shape lifted itself from swirling white flames." Shawna's ordinary life is forever changed when monstrous creatures come scratching at her door, and a black unicorn mysteriously comes to her aid. She then finds herself at the mercy of a sassy old witch, a quirky fairy who's allergic to her own fairy dust, and a world of magic and nightmares. A world, she discovers, that is not only her own, but is unraveling from an ancient curse. The truth of its origins, and of the shattered sapphires, will take Shawna and her companions on a fantastical adventure through the hidden secrets of the shielded realms.
~ When there is darkness in our lives, and the path is not always clear, all we need to do is believe. ~ Book Trailer: http://www.youtube.com/watch?v=F6ERzktM3k4&feature=youtu.be
This book was sent to Compass Book Ratings for review by Ravenswood Publishing
Sapphire: The Shielded Realms
by Elayne Griffith
Overall Review:
Sapphire: The Shielded Realms is a high-adventure, girl-power story. Every creature that a girl ever loved in fairy tales seems to have made it into this story, which makes for a good read--unicorns, fairies, and sorceresses, oh my. With a book beginning in a high school setting and ending in epic battles galore in a fantasy world, this book is zappy.
There were a few too many secrets and betrayals throughout the book, meaning the story could have used a tighter focus. These many different plot points sometimes seemed to bounce off the walls in a disorganized fashion. This, however, is not to say the book was not worth reading.
This book was full of beauty in its descriptions of landscape and mythical creatures. The author also caught the horror of nightmares in some very frightening creatures; the imagery brought imagination almost to reality, but there was a good balance between the fear and the pure joy.
Sapphire was written for a female teenage audience. If you do not fit into that category, but the book still sounds appealing, then by all means read it and enjoy. It was a good story. This book looks to be the beginning of a series, but it stood alone well, so do not feel like you are committing to yet another series. The ending of the story will leave you satisfied, and yet interested in what the author might come up with next.
Content Analysis:
Profanity/Language: 3 religious exclamations, 3 mild obscenities, 3 anatomical terms, 1 offensive hand gesture.
Violence/Gore: Husband threatens his wife and adopted child; a teen throws another teen into a wall; 5 page creepy scene with creepy mythical creatures, slight goriness described; it is mentioned that a mother wanted to kill her own baby; a brief scene where characters run from a frightening, mythical creature; a character threatens others, and another character threatens him back; a character threatens another character; a character cuts another character across the cheek with a knife; gruesome imagery, fighting, and death for 6 pages; mythical creature attacks characters and gets injured, not very detailed; 2 pages of fighting and killing, not very detailed; a brief second-hand account of how many people and mythical creatures were killed, slightly gory; a mythical creature threatens to kill some people; a man and two mythical creatures fight with intention to kill, but there are no injuries; a mythical creature attacks and kills a three-year-old boy's family in front of him, nongraphic; a one page description of warfare--adults and children are all destroyed, nongraphic; a few characters have a sword fight and one is mortally wounded; 1 page scene of gruesome warfare; 2 page scene of warfare, nongraphic; a short scene of dragons fighting each other, a bit of gruesome detail; 9 pages of warfare, only parts of it were slightly graphic; 3 pages of creepy mythical creatures, frightening scene; a character kills a mythical creature, gruesome.
Sex/Nudity: Teens flirt with each other a couple of times; teens hug and kiss a couple of times.
Mature Subject Matter:
Death of children/family members/friends, verbal spouse abuse, war.
Alcohol / Drug Use:
None
Reviewed By Amber