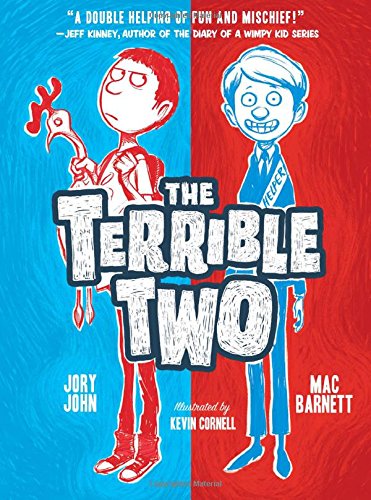 Publisher's Note:
Miles Murphy is not happy to be moving to Yawnee Valley, a sleepy town that's famous for one thing and one thing only: cows. In his old school, everyone knew him as the town's best prankster, but Miles quickly discovers that Yawnee Valley already has a prankster, and a great one. If Miles is going to take the title from this mystery kid, he is going to have to raise his game.

It's prankster against prankster in an epic war of trickery, until the two finally decide to join forces and pull off the biggest prank ever seen: a prank so huge that it would make the members of the International Order of Disorder proud.

In The Terrible Two, bestselling authors and friends Mac Barnett and Jory John have created a series that has its roots in classic middle-grade literature yet feels fresh and new at the same time.
This book was sent to Compass Book Ratings for review by Amulet Books
The Terrible Two
by Mac Barnett & Jory John
Overall Review:
On my honor I will do my best
To be good at being bad;
To disrupt, but not destroy;
To embarrass the dour and amuse the merry;
To devote my mind to japes capers, shenanigans, and monkey business;
To prove the world looks better turned upside down;
For I am a prankster.
So be it.
Frankly, the book had us at shenanigans. Entertaining and enjoyable, The Terrible Two is a caper that put me in mind of a childhood favorite, This Can't Be Happening at MacDonald Hall. (Oddly, MacDonald Hall was one of only three books I read multiple times as a child. The other two were The Little Princess and The Sword of Shannara. It is unclear what this says about my psychological profile...) It was endearing to see a friendship evolve and refreshing to see kids being kids while creating fun in a time-honored (old-fashioned?) way that involved thinking, planning, chalkboards, and the great outdoors--rather than a game console or screen.
The novel is graced with a liberal dose of amusing illustrations by Kevin Cornell and sprinkled with obscure, but entertaining trivia about bovines. This is a sure-fire read for those hard-to-please elementary-aged boy readers and a big step up from many of the current popular "doodle diaries". Take the oath and take the plunge into a fun read!
Content Analysis:
Profanity/Language: None
Violence/Gore: Verbal threat(s) to beat-up; bully purposefully bumps another; bully punches a character in the stomach.
Sex/Nudity: None
Mature Subject Matter:
Bullying, pranking (involving deception and minor property damage).
Alcohol / Drug Use:
None
Reviewed By Cindy