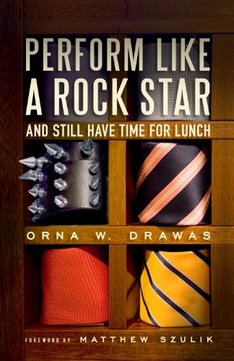 Publisher's Note:
Everyone wants to be a star at some point in their life. Become a true leader, a real mover, and quite simply, someone who people can count on to makes things happen. Inside the pages of Perform Like a Rock Star and Still Have Time for Lunch you can uncover ways to attain whole new levels in your own personal peak performance that can bring you greater success and fulfillment in your career - than you ever thought possible - and still have time for lunch . . . and so much more
Perform Like a Rockstar and Still Have Time for Lunch
by Orna W. Drawas
Overall Review:
"Perform Like a Rockstar" was a wonderfully clear and helpful book. It outlined numerous practical ways to help organize your life, your to-do-list, and how to keep everything under control. Although written for improving a career, I felt it was very helpful for organizing my life at home (as a stay-at-home-mom), and also for helping with my organization and tasks for my home business. Ms. Drawas' recommendations are applicable to anyone's circumstances. A must-read for anyone who feels overwhelmed and wants to get things under control again.
Content Analysis:
We recommend this book for ages 18+ because it is a self-help book written for adults. "Perform Like A Rockstar" did not have ANY sexuality, violence, or mature theme. It was completely clean except for 4-5 swear words.
Mature Subject Matter:
***
Alcohol / Drug Use:
***
Reviewed By SqueakyCleanReads