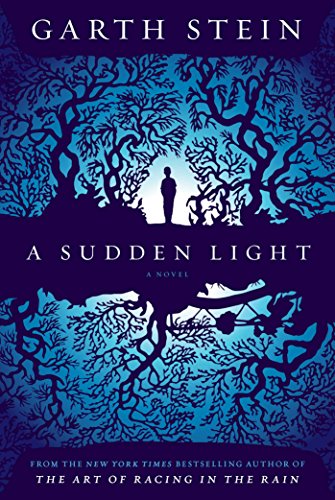 Publisher's Note:
The bestselling author of The Art of Racing in the Rain presents a long-awaited new novel in which a boy trying to save his parents' marriage uncovers a vast legacy of family secrets.

In the summer of 1990, fourteen-year-old Trevor Riddell gets his first glimpse of Riddell House. Built from the spoils of a massive timber fortune, the legendary family mansion is constructed of giant whole trees and is set on a huge estate overlooking Seattle's Puget Sound. Trevor's bankrupt parents have begun a trial separation, and his father, Jones Riddell, has brought Trevor to Riddell House with a goal: to join forces with his sister, Serena, dispatch the ailing and elderly Grandpa Samuel to a nursing home, sell off the house and property for development, divide up the profits, and live happily ever after.

But as Trevor explores the house's secret stairways and hidden rooms, he discovers a spirit lingering in Riddell House whose agenda is at odds with the family plan. Only Trevor's willingness to face the dark past of his forefathers will reveal the key to his family's future.

Spellbinding and atmospheric, A Sudden Light is rich with unconventional characters, scenes of transcendent natural beauty, and unforgettable moments of emotional truth that reflect Garth Stein's outsized capacity for empathy and keen understanding of human motivation—a triumphant work of a master storyteller at the height of his power.
A Sudden Light: A Novel
by Garth Stein
Overall Review:
If you are craving a book that is different from your everyday read in so many ways, might I suggest A Sudden Light? In many ways this book reminded me of something that would have appealed to me when I was a young teen. It was full of mystery, magic, and intrigue. You can't tell me that a book about a young boy exploring a dilapidated mansion that may or may not be haunted by the ghosts of his dead relatives doesn't sound pretty darn good.
If you have any doubts, just read through the first three to four chapters of this book and wait to be convinced. I'm pretty sure you won't be able to set it down. This story of Trevor Riddell and his exploration through a house that is literally a living history in itself is one that will keep you up reading late at night.
Trevor is at a place in his life where he is feeling very uncertain about his future. His parents don't have any money, his mom and dad are separated (though they deny it), and when he visits his relatives, he realizes that something seems to be terribly wrong with the relationship between his aunt and his grandpa. Through sneaking out in the night to explore the huge house his grandfather and aunt reside in, he makes some rather paranormal discoveries. Since his dad, grandfather, and aunt won't divulge any significant information about the history of the house, Trevor takes it upon himself to find out just what exactly happened to the inhabitants of this house years ago, and how that is affecting the decisions his family makes today.
If you haven't read The Art of Racing in the Rain, Garth Stein's previous novel, you will want to after you experience his writing in his second novel. Enjoy!
Content Analysis:
Profanity/Language: 2 religious exclamations; 4 mild obscenities; 2 derogatory names; 3 anatomical terms; 7 F-Word derivatives.
Violence/Gore: Murder is mentioned; a fire occurs and some buildings are very damaged; a character is attacked and dies, some blood and gore is described; an assisted suicide is referred to; verbal threats are made several times; several brief scenes involving ghosts and mysterious noises are described.
Sex/Nudity: Adults kiss; sex is implied between adults; sex is referred to once; incest is mentioned with no scene or description; two men are mentioned via letter to be in a relationship with each other several times, with some brief mention of their feelings towards each other.
Mature Subject Matter:
Gender identity issue, suicide, death, ghosts/paranormal.
Alcohol / Drug Use:
Smoking is mentioned; marijuana use is mentioned; adults drink.
Reviewed By Lydia