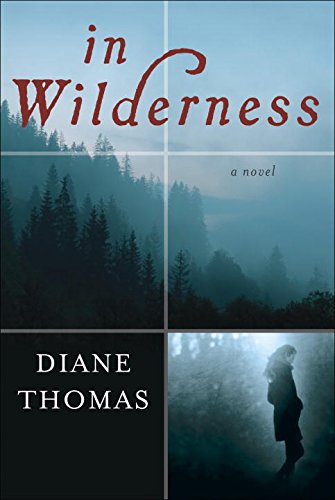 Publisher's Note:
For readers of Amanda Coplin and Chris Bohjalian, In Wilderness is a suspenseful and literary love story—a daring and original novel about our fierce need for companionship and our enduring will to survive.

In the winter of 1966, Katherine Reid moves to an isolated cabin deep in Georgia's Appalachian Mountains. There, with little more than a sleeping bag, a tin plate, and a loaded gun, she plans to spend her time in peaceful solitude. But one day, Katherine realizes the woods are not empty, and she is not alone. Someone else is near, observing her every move.

Twenty-year-old Vietnam veteran Danny lives not far from Katherine's cabin, in a once-grand mansion he has dubbed "Gatsby's house." Haunted by war and enclosed by walls of moldering books, he becomes fixated on Katherine. What starts as cautious observation grows to obsession. When these two souls collide, the passion that ignites between them is all-consuming—and increasingly dangerous.

Suffused with a stunning sense of character and atmosphere, Diane Thomas's intimate voice creates an unforgettable depiction of the transformative power of love, how we grieve and hope, and the perilous ways in which we heed and test our hearts.
This book was sent to Compass Book Ratings for review by Random House
In Wilderness: A Novel
by Diane Thomas
Overall Review:
It has been a while since I have read a book with a tone that is both mysterious and intriguing, without being overly scary or categorized as a "thriller". It was refreshing to pick up a book that felt very literary and well thought out; something that you could read in the news and be horrified by, but also something that you can't imagine happening to you.
In Wilderness starts out as a book about a woman who escapes from the modern society of 1966 and slips back to the roots of our ancestors who lived in drafty log cabins, using wells to pump water and fires to warm their homes. Why does she decide to leave all that she has ever known and loved? Because she, Katherine Reid, has just been blindsided by news of something she never thought could happen. Not to her. And the only way she knows how to deal with it is to get away, get more in tune with herself, and eventually, leave her world completely.
All of a sudden this story takes a different turn. Someone makes an appearance in Katherine's life, and she feels cared for and as though she has more of a purpose. But then things became a little weird and scary, and I was reminded of the book (or movie) Labor Day, where a woman is basically held hostage in her own home, but she almost seems to like it. This book was like a mixture between Labor Day and Winter's Bone. It might not appeal to everyone, but if readers give it a chance, they will most likely find themselves racing to the last page to see what the conclusion to this story will bring.
Review of Advance Reader Copy
Content Analysis:
Profanity/Language: 2 religious exclamations; 10 mild obscenities; 16 religious profanities; 15 derogatory names; 43 scatological words; 8 anatomical terms; 58 F-Word derivatives.
Violence/Gore: A mention of a miscarriage; a character contemplates who will find her dead body if she passes away; a character reads books where characters die violently; a character is described to be dead in one brief scene; a character thinks she is being watched by someone; a car is vandalized, the windows are smashed and the insides ruined; a character is on the brink of death from exposure to cold weather; a character recalls scenes from a war, some description is given; a character is described to have bloody feet from walking on thorns and an uneven path barefoot; a character recalls a friend who died in a war and how he died; a character commits suicide in a brief mention; a character threatens to slit another characters throat; a man remembers seeing a woman die during childbirth and the scent of blood permeating the room in a briefly descriptive scene; a man is verbally and physically violent towards a woman, threatens to hit woman; a character shoots another with a gun, blood is mentioned to be oozing from the gunshot wound; a man gives a woman special tea to try to induce an abortion; animals are killed for food; a dead bird is briefly described with its eyes pecked out; a character slits an unarmed character's throat; a character shoots self; a character kills a deer and drinks the animals blood.
Sex/Nudity: A man and woman lay together in a sexual way; a man touches a woman in a sexual way several times; a man and woman kiss; a woman is described to be nude; sexual activity is implied several times between an unwed man and woman; a man and woman have sexual relations in public in two slightly descriptive extended scenes, though no one notices.
Mature Subject Matter:
Diagnosis of terminal disease, war, death, abandonment of spouse, personal crises, suicide.
Alcohol / Drug Use:
A man is described to be wasted; a man smokes a joint; a character is described to be stoned.
Reviewed By Lydia