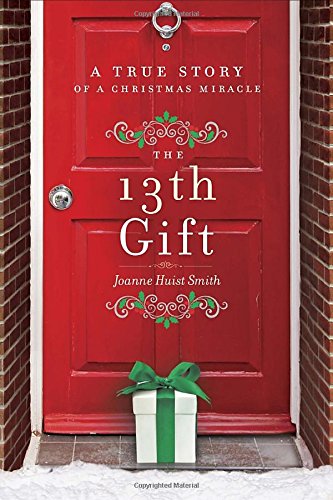 Publisher's Note:
For readers of Richard Paul Evans and Greg Kincaid comes The 13th Gift, a heartwarming Christmas story about how a random act of kindness transformed one of the bleakest moments in a family's history into a time of strength and love.

After the unexpected death of her husband, Joanne Huist Smith had no idea how she would keep herself together and be strong for her three children--especially with the holiday season approaching. But 12 days before Christmas, presents begin appearing on her doorstep with notes from their "True Friends." As the Smiths came together to solve the mystery of who the gifts were from, they began to thaw out from their grief and come together again as a family. This true story about the power of random acts of kindness will warm the heart, a beautiful reminder of the miracles of Christmas and the gift of family during the holiday season.
The 13th Gift: A True Story of a Christmas Miracle
by Joanne Huist Smith
Overall Review:
When we received this title at the library I am employed with, I didn't think I would ever read it. It looked like just another "feel good" story that is published around Christmas time to tug at your heart and make you feel melancholy. Wow, was I wrong. I am so glad my mother-in-law took the time to recommend it to me on Good Reads, because this book is a marvelous one.
The 13th Gift is the true story of the Smith family, after the loss of their beloved husband and father. Anyone who has lost a loved one knows that the holidays are a really tough thing to get excited about when all you want to do is go cry in a corner and grieve the loss of your loved one. The last thing a mother who has just lost her husband would want to do is plan for and celebrate Christmas. This is the predicament that Joanne Huist Smith faced the year her husband died. How to make her children feel normal and loved, when their father is gone? She certainly didn't feel joyful and holly jolly. She was ready to push Christmas to the back burner and forget about it. Until...
Something wrapped in pretty paper shows up on their porch. This continues to happen every day, and suddenly the whole family is scrambling, trying to figure out who is doing this to them, and why? At first the family doesn't know how to feel about this unexpected, and somewhat unwelcomed, surprise every day. But it can be amazing what a little kindness and a whole lot of open-mindedness can do--especially around Christmas, which is such a magical time.
The arrival of the mysterious packages on the families front porch is enough to make Joanne and her family decide maybe Christmas is possible, even without their dear one beside them. Though at first it seems unbearable to celebrate what is supposed to be such a happy time without a loved one, this book proves that there is a meaningful life ahead for those who have lost loved ones. Healing is possible, sometimes we just have to recognize an opportunity and seize it.
Content Analysis:
Profanity/Language: 1 religious exclamation; 1 mild obscenity; 4 scatological words; 1 anatomical term; 1 offensive hand gesture.
Violence/Gore: A man is mentioned to keel over and die; a man dies of an illness.
Sex/Nudity: Adults kiss.
Mature Subject Matter:
Death, cancer.
Alcohol / Drug Use:
A mother worries her son is involved in underage drinking or illegal drug use.
Reviewed By Lydia