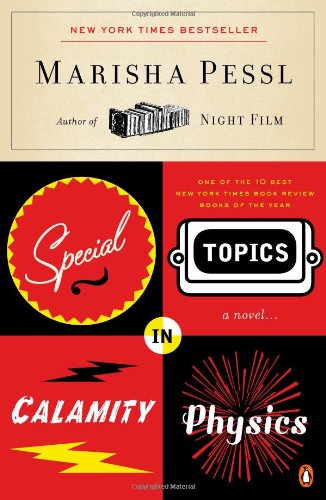 Publisher's Note:
The mesmerizing New York Times bestseller by the author of Night Film

Marisha Pessl's dazzling debut sparked raves from critics and heralded the arrival of a vibrant new voice in American fiction. At the center of Special Topics in Calamity Physics is clever, deadpan Blue van Meer, who has a head full of literary, philosophical, scientific, and cinematic knowledge. But she could use some friends. Upon entering the elite St. Gallway School, she finds some—a clique of eccentrics known as the Bluebloods. One drowning and one hanging later, Blue finds herself puzzling out a byzantine murder mystery. Nabokov meets Donna Tartt (then invites the rest of the Western Canon to the party) in this novel—with visual aids drawn by the author—that has won over readers of all ages.
Special Topics in Calamity Physics
by Marisha Pessl
Overall Review:
For a debut novel, this book is quite a stunner. I hardly know where to start. When I first began, I wasn't sure I would be able to get through it; it didn't seem to be going anywhere in the first several chapters. Usually this is a sign to me that I will be lost for the entirety of the book, and if I have the courage to give up, I better do it now. For whatever reason (perhaps I was feeling extra ambitious?), I continued on with the story. I have mixed feelings about how it turned out.
Blue Van Meer is a girl who has never really thought much of herself. She isn't your typical girl. Living with a father who is a traveling lecturer has made her into a girl who is ready to move to a new state at the drop of a hat, and who is as smart as a whip when it comes to literature. She has grown up without a mother, a situation which has consequences of its own, but for the most part her father has done a good job of bringing Blue up to be an upstanding citizen. Until, that is, she joins a group at her new school who seem prone to trouble and shenanigans. Once Blue becomes one of them, things start to get a little crazy. This is where I really started to take an interest in the story, and the pace started to pick up. If you make it to this point, you can make it to the finish line--no problem.
I'm not going to lie, I appreciate pictures in books and although the illustrations in this one were few and far between, I liked the "visual aids" as the main character, Blue, refers to them. These rough sketches were something I found myself looking forward to. I may have even used them as an incentive to get from one end of the book to another. All of this is not to say that this tome was a horrible read. No, it was just very different. I'm glad I finished it, because I often see it referred to and wonder what people are talking about. Now I will know, and also be able to make vague references to it. Special Topics in Calamity Physics is a quirky book. It is a story about a girl, a school, cliques, and teacher/student relationships. It's part mystery, part weird. I suggest everyone should give this book a try, just so they know what they are missing, and even if they decide not to read the whole thing.
Content Analysis:
Profanity/Language: 6 religious exclamations; 6 mild obscenities; 2 derogatory names 6 scatological words; 28 F-Word derivatives.
Violence/Gore: A hanged character's body is briefly mentioned; a car crash is mentioned with a casualty; a character is injured and mentioned to be bleeding profusely, the blood is briefly described; murder is mentioned; a character goes missing and body is found in the woods; a group of minors go missing for several days but are found unharmed; a drunk man is found drowned; a character shoots and kills a police officer.
Sex/Nudity: Adults kiss; sex is implied between adults; girls (minors) are mentioned to go to bars and have promiscuous sex; minors encourage their friends to be sexually active; sex is referred to several times; minors kiss; a woman kisses a minor female on the cheek, and it is questioned whether it was sexual or not.
Mature Subject Matter:
Death, murder, personal crises, suicide.
Alcohol / Drug Use:
Adults smoke; adults drink; a drunk character is found drowned; drug dealing is mentioned; minors are mentioned to drink and smoke at a party; a minor is mentioned to be smoking a joint.
Reviewed By Lydia