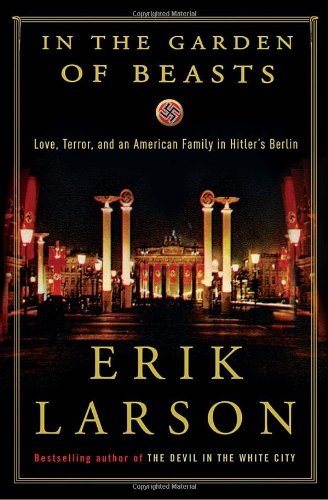 Publisher's Note:
Erik Larson has been widely acclaimed as a master of narrative non-fiction, and in his new book, the bestselling author of Devil in the White City turns his hand to a remarkable story set during Hitler's rise to power.

The time is 1933, the place, Berlin, when William E. Dodd becomes America's first ambassador to Hitler's Germany in a year that proved to be a turning point in history.

A mild-mannered professor from Chicago, Dodd brings along his wife, son, and flamboyant daughter, Martha. At first Martha is entranced by the parties and pomp, and the handsome young men of the Third Reich with their infectious enthusiasm for restoring Germany to a position of world prominence. Enamored of the "New Germany," she has one affair after another, including with the suprisingly honorable first chief of the Gestapo, Rudolf Diels. But as evidence of Jewish persecution mounts, confirmed by chilling first-person testimony, her father telegraphs his concerns to a largely indifferent State Department back home. Dodd watches with alarm as Jews are attacked, the press is censored, and drafts of frightening new laws begin to circulate. As that first year unfolds and the shadows deepen, the Dodds experience days full of excitement, intrigue, romance--and ultimately, horror, when a climactic spasm of violence and murder reveals Hitler's true character and ruthless ambition.

Suffused with the tense atmosphere of the period, and with unforgettable portraits of the bizarre Göring and the expectedly charming--yet wholly sinister--Goebbels, In the Garden of Beasts lends a stunning, eyewitness perspective on events as they unfold in real time, revealing an era of surprising nuance and complexity. The result is a dazzling, addictively readable work that speaks volumes about why the world did not recognize the grave threat posed by Hitler until Berlin, and Europe, were awash in blood and terror.
In the Garden of Beasts: Love, Terror, and an American Family in Hitler's Berlin
by Erik Larson
Overall Review:
In a style similar to his The Devil in the White City, Erik Larson wraps up a slice of history with an entwining narrative line. This time the history is Germany in the 1930's during Hitler's ascension to power and the narrative is U.S. Ambassador Dodd and his adult daughter, Martha. Much of the charm of The Devil in the White City was in its anecdotal history: the origin of the ferris wheel, the zipper, boxed cereal. In the Garden of Beasts had only a handful of those anecdotes: the origin of the acronym GESTAPO, facts about denunciations, and the ironic ties of a Jewish scientist to Zyklon B. Because anecdotal items serve as more than mere interest factors by anchoring events in history and providing perspective, more of that content would have been welcomed. The storyline following Martha Dodd's romantic escapades seemed irrelevant in the larger scheme of things and provided little historical perspective. Truly fascinating were the individuals Diels and Messersmith. Where Erik Larson truly shines is in his flowing, narrative style which makes non-fiction accessible and relevant to even a casual non-fiction reader. Larson accomplishes this while delivering first-rate, documented history.
Content Analysis:
Profanity/Language: 2 religious exclamations; 3 mild obscenities; 1 derogatory name; 1 anatomical term.
Violence/Gore: Many (~35) brief, non-detailed, second-hand reports of violence including, but not limited to, a report of execution by beheading, report of death in a hunting accident, report of 75 executions, report of shootings, report of rumors of people being shot, report of execution by hanging, report of execution by guillotine, report of order for six men to be shot immediately, report of suicides, report of beatings and kidnappings, miscellaneous rumors of violence, report of soldier hitting a boy, reports of imprisonments, unconfirmed reports of arrests/beatings/prison camps, report of a man and his wife being shot, etc.
There is a two paragraph except from a journal detailing and describing the wounds a man had received when violently beaten; a person was verbally threatened; a brief description of an execution; a brief recount of soldiers dragging a woman through the streets; a grenade was thrown and some gunfire; a quote referencing lyrics in a song about "blood of Jews" spurting from a knife; a women commits suicide; brief outline of the punishment system in prison camps; brief description of a beating; scuffle/fistfight between two men; a military leader and several others are deliberately killed/executed in a military uprising/action.
Sex/Nudity: Several brief, non-detailed references to characters being engaged in affairs, having lovers; reference to a woman as "sexually decayed"; a sexually explicit phrase is quoted from a journal/letter; a few references to flirtatious behavior and romancing (hand-holding, kissing, etc.); a quote referring to an incidence where two people went swimming without a bathing suit; a reference to "deflowering" a woman; reference to a woman as a woman of "sexual appetite"—looking "overtly sexual" – "frankly sexual"—"knew sex and liked it"—"sexually talented"; reference to a residence as a house of "ill repute"; a photograph included in the book shows a nude painting; a man's homosexual status is noted; authorities ask for a report to be compiled on a man's homosexual activities; reference to a homosexual man's relationship to his male secretary and sharing a bed with another man.
Mature Subject Matter:
Racial and religious discrimination/persecution, Holocaust, World War II, Death, Suicide, Infidelity, Promiscuousness, Murder, Torture, Hitler.
Alcohol / Drug Use:
Several references to wine or beer being served at social functions/dinners or drinking at a bar; one man vows to get "savagingly drunk"; an individual commits suicide with a barbiturate.
Reviewed By Cindy