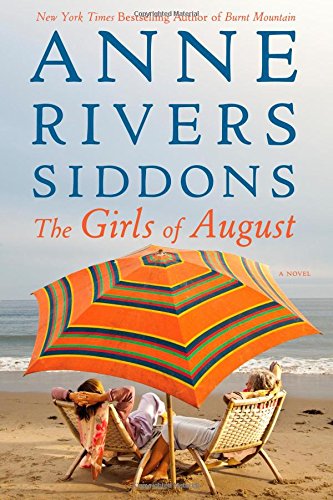 Publisher's Note:
Every August, four women would gather together to spend a week at the beach, renting a new house each year. The ritual began when they were in their twenties and their husbands were in medical school, and became a mainstay of every summer thereafter. Their only criteria was oceanfront and isolation, their only desire to strengthen their far-flung friendships. They called themselves the Girls of August. But when one of the Girls dies tragically, the group slowly drifts apart and their vacations together are brought to a halt. Years later, a new marriage reunites them and they decide to come together once again on a remote barrier island off the South Carolina coast. There, far from civilization, the women make startling discoveries that will change them in ways they never expected.
The Girls of August
by Anne Rivers Siddons
Overall Review:
The Girls of August wasn't as good as I expected it to be. I read this book in the darkest part of winter, hoping it might be a good pick-me-up and kind of a ray of sunshine during the cold dark days, but I found it hard to get into and the characters were sort of shallow and whiny. I think they annoyed me, which is never a good thing when you really want to like a book.
For years the "Girls of August" would gather and go on a week-long escape to a rental house on a beach, where they would lounge about and have a grand time. But when they lose one of the "girls" they just don't have the heart to continue their tradition. They sort of fall apart, each woman in her own way. This is very understandable, although with such a tight-knit group, I would think the women would find ways to lean on and support each other in a time of need. However, years later the remaining "girls" reunite for a week in August, and everything is the same, except for the empty hole where their dead friend used to be.
The premise of this book sounded great: four ladies escaping for a week every summer to drink, laze about in the sunshine, and reminisce about the "good old days". That sounds like every woman's dream! Maybe I would have enjoyed this book more if it was more focused on the fun things the women saw and ate? Instead, it seemed like a lot of drama, easily compared to a chick-flick--kind of mindless reading. If you are looking for a light read to warm you up, this might do the trick, or it could also make for a short beach read. I just wouldn't recommend it if you are looking for quality literature.
Content Analysis:
Profanity/Language: 6 religious exclamations; 8 mild obscenities; 4 derogatory names; 3 scatological words; 4 anatomical term; 1 offensive hand gesture; 8 F-Word derivatives.
Violence/Gore: A character is mentioned to have died from cancer; a fire occurs, with no casualties; a character is mentioned to have died in a car crash.
Sex/Nudity: Adults kiss several times; sex is referred to several times; an affair is mentioned; a mature discussion regarding sex is had; a group of women skinny dip; sex is implied between an adult couple.
Mature Subject Matter:
Cancer, personal crises, loss of a parent, a woman is barren, divorce.
Alcohol / Drug Use:
Adults smoke; adults drink.
Reviewed By Lydia