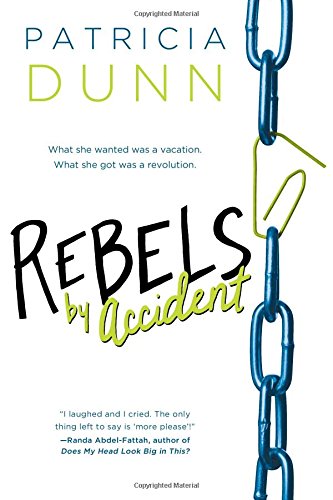 Publisher's Note:
Mariam Just Wants to Fit In.
That's not easy when she's the only Egyptian at her high school and her parents are super traditional. So when she sneaks into a party that gets busted, Mariam knows she's in trouble...big trouble.
Convinced she needs more discipline and to reconnect with her roots, Mariam's parents send her to Cairo to stay with her grandmother, her sittu.
But Marian's strict sittu and the country of her heritage are nothing like she imagined, challenging everything Mariam once believed.
As Mariam searches for the courage to be true to herself, a teen named Asmaa calls on the people of Egypt to protest their president. The country is on the brink of revolution—and now, in her own way, so is Mariam.
This book was sent to Compass Book Ratings for review by Sourcebooks Fire
Rebels by Accident
by Patricia Dunn
Overall Review:
Author Patricia Dunn's YA debut novel Rebels by Accident sheds light on the event of January 25, 2011 known as the Egyptian Revolution. By portraying the event using young fictional characters to integrate readers into the happenings leading up to the occasion and also the proceedings of the day, youth readers are better able to relate to the complexity, excitement and strangeness of it all. Although readers don't get to read about the actual revolution until about three-quarters into the novel, the occurrences leading up to the epic day are a bit revolutionary in themselves, or at least they are for protagonist Mariam.
Told from the prospective of Mariam, who is an Arab-American struggling to embrace her multi-cultural identity and rise above the fear that makes her want to hide her ethnicity and religion to be part of the "in-crowd". The book's portrayal of bullying, struggling self-image, and friendship are all relevant issues that help readers feel more connected, even if you feel a disassociation with some of the characters. With a range of supporting cast and events that unfold to help Mariam on her journey towards self-discovery, readers not only witness a type of freedom unfolding for young Mariam, but for the country of Egypt as well.
Based on readers' preference some may enjoy the constant dialogue between Mariam and her friend, while others may feel it a bit trite and wish the story to move forward without all the back and forth banter. The dialogue that may impress readers the most is the conversations between Mariam and her sittu (grandmother), who not only surprises Mariam with her wisdom and love, but just might become a favorite of readers' as well. Some advice from Sittu we can all take to heart--don't assume you know someone because of how they look on the outside.
An interesting, heartfelt read full of diversity and historical developments, Rebels by Accident is a wonderful read for teens who are curious about cultural diversity and/or political reform.
Did you enjoy Rebels by Accident? Though not contemporary fiction, you may enjoy Burn My Heart by Beverley Naidoo.
Content Analysis:
Profanity/Language: 30 religious exclamations; 7 scatological words; 5 anatomical terms.
Violence/Gore: Parent slaps child; character knocks friend over, friend hits head; characters discuss another character having endured police brutality, non-graphic in detail; character reads report of man dying at the hands of police; characters discuss report of people setting themselves on fire in protest; character witnesses few brief scenes of protesters being subject to police brutality, some blood mentioned; character slaps another character across the face; extended scene (about 1 page) character recounts witnessing violence against protester by police--beatings, shootings, tear gas; extended scene (about 1 page) character inadvertently admits to being subject to torture tactics by police while being held in a government facility, not extremely graphic, but disturbing.
Sex/Nudity: Mention of movie showing male lead's rear end; few brief scenes in which teen characters kiss and hug.
Mature Subject Matter:
Socioeconomic inequality, civil resistance/disobedience, police brutality, government corruption, religious & cultural prejudice.
Alcohol / Drug Use:
Characters attend party where there is underage drinking and smoking of marijuana; mention of adult smoking cigarettes.
Reviewed By MaryLou