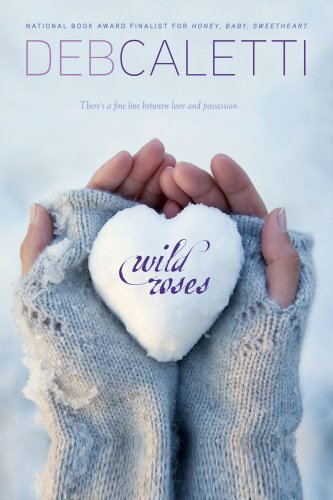 Publisher's Note:
Seventeen-year-old Cassie Morgan lives with a time bomb (a.k.a. her stepfather, Dino Cavalli). To the public, Dino is a world-renowned violin player and composer. To Cassie, he's an erratic, self-centered bully. And he's getting worse: He no longer sleeps, and he grows increasingly paranoid. Before, Cassie was angry. Now she is afraid.

Enter Ian Waters: a brilliant young violinist, and Dino's first-ever student. The minute Cassie lays eyes on Ian she knows she's doomed. Cassie thought she understood that love could bring pain, but this union will have consequences she could not have imagined.

In the end, only one thing becomes clear: In the world of insanity, nothing is sacred...
Wild Roses
by Deb Caletti
Overall Review:
As a teen, there were a handful of authors I knew I could turn to if I needed a really good read. Among these authors were Sarah Dessen, Susane Colasanti, Elizabeth Scott, and Deb Caletti. Each of these authors has a unique voice, but they all have a similar way of writing, and their books all have the same tone. Usually they center on a teen girl, her friends and boyfriends, and a party or two. School drama, summer fun...you get the idea. I hadn't read any books by these authors for about a year so I thought it time to see if I still enjoyed this type of book. My answer in a word?--Yes.
Wild Roses is primarily about a teen girl named Cassie Morgan who is living a double life. From the outside her family life seems to be typical--a divorced mother remarried to a serious middle-aged man, but everything isn't as it seems, in fact, far from it. When Cassie tries to reach out to the one person who might understand her, she finds that she can't because her stepfather is standing in the way.
Deb Caletti is an author that I think every teen girl should at least try. If she isn't their cup of tea, then at least they know to steer clear of her books. I, however, found that Ms. Caletti's books were ones that taught me a lot about growing up, school, and boys. For the most part, they're fluffy and happy. But some of them do deal with the harder aspects of life. If you are a teen looking for a book to transport you away from whatever is going on in your life, or something that is filled with a little bit of meaningless drama and a lot of heart, I would suggest you start with Wild Roses. If you find yourself falling in love with this type of book, Deb Caletti has quite a few other books that are all just as good if not better.
Content Analysis:
Profanity/Language: 7 religious exclamations; 3 mild obscenities; 2 derogatory names; 13 scatological words; 4 anatomical terms; 8 F-word derivatives.
Violence/Gore: Suicide methods are mentioned; a character punches a window out with hand, some blood is mentioned briefly; a fire starts and some property is destroyed by it; a character is mentioned to have hanged herself, no description is given; a character is mentioned to have broken hand.
Sex/Nudity: An affair is mentioned to occur; minors kiss several times; sex is referred to several times.
Mature Subject Matter:
Mental illness, divorce, adultery.
Alcohol / Drug Use:
Adults drink; adults smoke.
Reviewed By Lydia