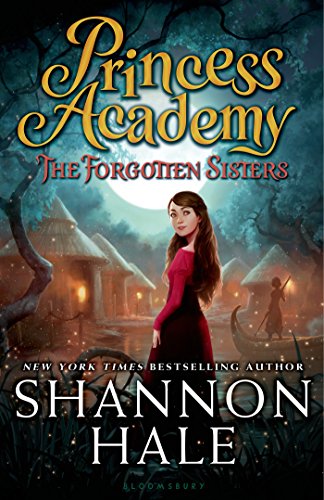 Publisher's Note:
After a year at the king's palace, Miri has learned all about being a proper princess. But the tables turn when the student must become the teacher!

Instead of returning to her beloved Mount Eskel, Miri is ordered to journey to a distant swamp and start a princess academy for three sisters, cousins of the royal family. Unfortunately, Astrid, Felissa, and Sus are more interested in hunting and fishing than becoming princesses.

As Miri spends more time with the sisters, she realizes the king and queen's interest in them hides a long-buried secret. She must rely on her own strength and intelligence to unravel the mystery, protect the girls, complete her assignment, and finally make her way home.

Fans of Shannon Hale won't want to miss this gorgeously woven return to this best-selling, Newbery Honor-winning series.
This book was sent to Compass Book Ratings for review by Bloomsbury Children's Books
Princess Academy: The Forgotten Sisters
by Shannon Hale
Overall Review:
Just as Miri is leaving the palace to return home, the king has decided to send Miri on an unexpected but vital mission that she reluctantly accepts and her newest adventure begins. It's always interesting (and occasionally amusing) to see a character out of his or her element and to see how they adapt to their new surroundings. Readers will love the three new main characters Miri meets in this story and all the great things she learns from them. Her experiences prove to be emotional and at times quite comical. Hale always amazes me with her ability to convey her characters' emotions. This is book three of the Princess Academy series and if you loved the first two, this will also be a favorite. It is not necessary to read the previous two books in this series in order to understand and enjoy this one; however, they are all fantastic so I highly recommend them. Avid readers of Jessica Day George's novels will also love this book as Hale's writing is reminiscent of George's.
Review was of an Advance Review Copy
Content Analysis:
Profanity/Language: None
Violence/Gore: Many (31) brief incidents including character considering letting violence occur that could be prevented; character jokes about ordering a mass execution; character could've been killed; verbal threats; second hand reports of battles; reference to characters' mothers dying; a few second hand reports of characters dying; poems about war; second hand report that a country gets attacked by another; hunting stories mentioned; character bit by snake; character flicks nose of another; character slapped; characters fight (non-life threatening); hunting; character attacked by an animal; character gets shot at and feet cut; characters attacked by another; fictional story about ghosts and girl dying; two non-detailed scenes of character getting killed.
Sex/Nudity: Several (11) brief incidents including hug; kiss; holding hands; head on shoulder; hand on back; story of 3-year-old character running around naked.
Mature Subject Matter:
Death, war, murder, theft.
Alcohol / Drug Use:
None
Reviewed By Jenny