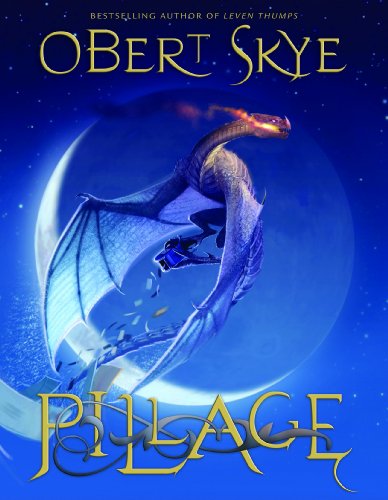 Publisher's Note:
When fifteen-year-old Beck Phillips travels by train to the secluded village of Kingsplot to live with his wealthy but estranged uncle, Beck discovers some dark family secrets. A buried basement, a forbidden wall, an old book of family history with odd references to . . . dragons? Beck s life is about to be changed forever in this suspenseful tale about the destructive nature of greed and the courage to make things right. Pillage is filled with Mr. Skye s signature humor as well as some very intense moments, including a surprise ending, that will keep readers young and old engrossed and entertained.
This book was sent to Compass Book Ratings for review by Shadow Mountain
Pillage
by Obert Skye
Overall Review:
What do mysteriously filled basements, super heavy stones, and creepy climbing plants have in common? If you really want to know, you'll have to read the book, but I'll give you a hint: There are dragons involved! This book belongs on your book shelf next to the Fablehaven, Artemis Fowl, and Percy Jackson and the Olympians series. If you liked those, you'll love 'Pillage'! Full of action, adventure and witty humor, this book would be enjoyed by anyone and everyone who loves fantasy that takes place in the 'real' world. I enjoyed the characters and the plot twists, and I loved the imaginative addition of the plant world! Who would have thought that plants could be an amazingly cool element of a YA fantasy novel? Hilarious fun for everyone! 'Pillage' is an engaging and fast-paced read—but make sure you watch out for flying lettuce!
Content Analysis:
From what I've read of this author so far, he is a riot! His humor is dry and absolutely perfect for a young teenage audience! Add to that a complete lack of profanity, and you're on your way to a winner in my book!
The only part I would consider 'sexual' was that one character likes another—it's commented upon a few times, but is cute and sweet. They kiss once. Again, it's nothing uncomfortable.
There is some violence, as usually happens when there are dragons involved. Many characters (mostly dragons) are killed. One character is eaten.
Mature Subject Matter:
There are a few scuffles at school. The only mature theme, other than the dragons (obviously), is the main character dealing with the death of his mother…and then dealing with some other twists to his family tree. This really is the perfect book for young teenagers—boys and girls!
Alcohol / Drug Use:
***
Reviewed By Emily