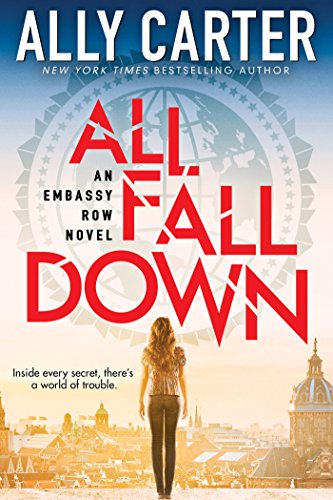 Publisher's Note:
A new series of global proportions -- from master of intrigue, NEW YORK TIMES bestselling author Ally Carter.

Grace Blakely is absolutely certain of three things:

1. She is not crazy.
2. Her mother was murdered.
3. Someday she is going to find the killer and make him pay.

As certain as Grace is about these facts, nobody else believes her -- so there's no one she can completely trust. Not her grandfather, a powerful ambassador. Not her new friends, who all live on Embassy Row. Not Alexei, the Russian boy next door, who is keeping his eye on Grace for reasons she neither likes nor understands.

Everybody wants Grace to put on a pretty dress and a pretty smile, blocking out all her unpretty thoughts. But they can't control Grace -- no more than Grace can control what she knows or what she needs to do. Her past has come back to hunt her . . . and if she doesn't stop it, Grace isn't the only one who will get hurt. Because on Embassy Row, the countries of the world stand like dominoes, and one wrong move can make them all fall down.
This book was sent to Compass Book Ratings for review by Scholastic
Embassy Row #1: All Fall Down
by Ally Carter
Overall Review:
New York Times bestselling author of not one, but two series (Heist Society & Gallagher Girls), Ally Carter is basically the "teen dream" of young adult novelists. Now presenting her third young adult series Embassy Row, Miss Carter starts off the series strong with All Fall Down. Set in the fictionalized European country of Adria, readers are introduced to feisty teen protagonist, Grace Blakely. Grace is determined not to be bowed down by conformity, and as we come to find out, it is more than your typical teenage angst, "rebel without a cause" syndrome, but something deeper, something a bit darker, something that has damaged Grace.
Even-paced, each intriguing scene sets up nicely for the next anticipated chapter. Although there is some political intrigue and espionage, the focus is more of a creative cerebral enterprise, not a flurry of explosives and fight scenes, which plays out nicely since we're dealing with teenagers and not Jack Reacher. With a likeable ragtag team of friends to help Grace navigate the political streets (figuratively and literally), the supporting cast does just that, they support the main character on her journey. Although the explosions are kept to a minimum that does not mean the scenes themselves are not explosive; they have humor, drama, and just a slight dose of romance, which adds to the excitement without disrupting the plot. You may find the most chilling scenes have more to do with the emotional drama rather than the surrounding intrigue. The way in which the author is able to describe the descriptive flow of the characters' emotional state is intense, descriptive, and completely gripping.
Hit with a Hitchcock-like twist near the end, Carter checks off the list of thriller must haves: interesting location- check, likeable protagonist- check, ominous villain- check, a game-changing revelation- triple check. So I guess what I'm saying is check it out, at the library or your local bookstore, it may just be a calculated risk worth your while.
Review of an Advance Reader Copy
Content Analysis:
Profanity/Language: None
Violence/Gore: Character recounts the number of broken bones incurred throughout the years and how they broke; character falls injuring self and another character, some blood mentioned; several mentions of parent's death/murder; two brief (about a paragraph) scenes in which character has a flashback of witnessing a parent's violent death, blood mentioned; character is shot.
Sex/Nudity: Female character kisses male character on the cheek; female and male character embrace; male character tells about encountering another male character in the nude (non-sexual, told in humorous fashion).
Mature Subject Matter:
Murder of a parent, hospitalization/institutionalization for mental instability/PTSD (post traumatic stress disorder).
Alcohol / Drug Use:
Mention of adults smoking cigars and drinking whiskey.
Reviewed By MaryLou