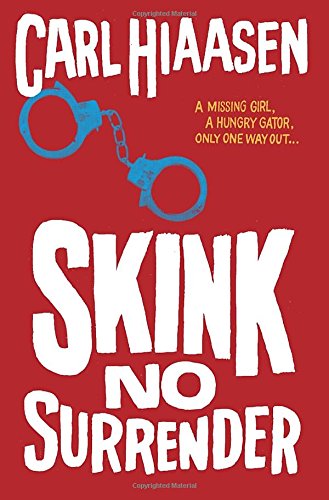 Publisher's Note:
**LONGLISTED FOR THE 2014 NATIONAL BOOK AWARD!**
Classic Malley—to avoid being shipped off to boarding school, she takes off with some guy she met online. Poor Richard—he knows his cousin's in trouble before she does. Wild Skink—he's a ragged, one-eyed ex-governor of Florida, and enough of a renegade to think he can track Malley down. With Richard riding shotgun, the unlikely pair scour the state, undaunted by blinding storms, crazed pigs, flying bullets, and giant gators.

Carl Hiaasen first introduced readers to Skink more than twenty-five years ago in Double Whammy, and he quickly became Hiaasen's most iconic and beloved character, appearing in six novels to date. Both teens and adults will be thrilled to catch sight of the elusive "captain" as he finds hilariously satisfying ways to stop internet predators, turtle-egg poachers, and lowlife litterbugs in their tracks. With Skink at the wheel, the search for a missing girl is both nail-bitingly tense and laugh-out-loud funny
Skink--No Surrender
by Carl Hiaasen
Overall Review:
Carl Hiaasen is back with all his favorites--Florida, environmental conservation, and animal protection--but this time it is in a young adult novel. Mr. Hiaasen has written for both adult and middle grade audiences, but this is his first official foray into young adult fiction. There is plenty of action and Hiaasen's trademark humor. His larger-than-life character, Skink, is really a tall-tale character-- almost along the lines of a Paul Bunyan or John Henry. Some of the details of the plot and situation (Is a mother really going to let her teenage son go on a road trip/hunt with an unknown man to look for a cousin that just made that same mistake?) are a bit far-fetched, but this is not really a novel that is going for realistic contemporary fiction. It is novel out to tell a good yarn. An entertaining, quick read, this is a good pick for teenage guys who desperately want to avoid the dystopian love-triangles in the young adult section.
Content Analysis:
Profanity/Language: 15 religious exclamations; 13 mild obscenities; 1 derogatory name; 5 scatological words; 15 anatomical terms.
Violence/Gore: Report of death of parent in accident; character watches cage fighting on TV; person injured in a reported fight is observed on a stretcher; report of loss of eye from someone kicking him; vandalizing of property; limb injured in an accident; character visualizes punching someone; report of someone knocking someone else out; character stabbed through hand by a fish with brief description of injury with mention of blood; threats verbal and with a gun; characters struggle and punch; characters struggle and shots are fired; description of injuries received; character chased by aggressive animal; evidence (wound) that a person has been shot, non-life threatening; evidence of wound received from an animal, mention of blood; characters hit and kick; character is killed by animal in non-descriptive brief scene (no details).
Sex/Nudity: Report an adult male (20+) kissed a teenage (14 year old) girl; reference to a girl being "hot"; ripped pants expose character's buttocks (non-sexual); report that a character mooned someone; character asked if she has been harmed (general in nature, but some innuendo).
Mature Subject Matter:
Running away, Internet stalking, abduction, vigilantism, death, ecological issues.
Alcohol / Drug Use:
Adults drink beer; passing reference to selling pain pills.
Reviewed By Cindy