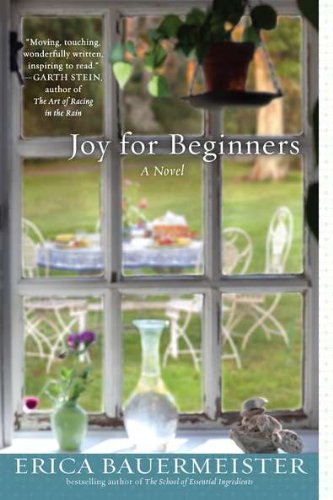 Publisher's Note:
A Library Journal Best Book of the Year

What would you do with a second chance at life?

Having survived a life-threatening illness, Kate celebrates by gathering with six close friends. At an intimate outdoor dinner on a warm September evening, the women challenge Kate to start her new lease on life by going white-water rafting down the Grand Canyon with her daughter. But Kate is reluctant to take the risk.

That is, until her friend Marion proposes a pact: if Kate will face the rapids, each woman will do one thing in the next year that scares her. Kate agrees, with one provision – she didn't get to choose her challenge, so she gets to choose theirs. Whether it's learning to let go of the past or getting a tattoo, each woman's story interweaves with the others, forming a seamless portrait of the power of female friendships. From the author of The School of Essential Ingredients comes a beautifully crafted novel about daring to experience true joy, starting one small step at a time.
Joy For Beginners
by Erica Bauermeister
Overall Review:
Sometimes I look at my life and my lack of friends, and wonder how I got to now without more support. That love and care that a best friend in a book or movie is always lavishing on their girlfriends. The friend who you can call at any hour with your joys and sorrows, and who will bring you a pint of ice cream when you need it most. I don't really have one of those friends, but the women in Joy For Beginners sure do. Kate, the main character in this wonderful book, has been so fortunate throughout her life to have had many great friends. Even when tough times arise, her friends are there to hold her hand and help guide her through the maze that life can be. I want friends like that--doesn't everyone?
This book is a nice mixture of love, heartbreak, healing, and hope. It has just the right amount of romance, and adventure is always right around the corner. I like the way Erica Bauermeister writes; almost as if she is journaling scenes from her own life. Some parts of the story seemed to be a little too good to be true, but it's fiction, so anything can happen, right? I had only read one of Ms. Bauermeister's books previous to this one, and I couldn't remember much, but I liked it. If it was anything like Joy For Beginners, then I'm sure it was a book I could hardly bear to see it end. This book may not be the newest and hottest title in the bookstore or library, but it is just as good as any current bestseller.
Some of my favorite parts of this book were the ones that told of the women and their seemingly "magical" abilities to see, hear, and taste things others couldn't. One of the women in particular is able to taste things that others can't--not in the food sense but rather in the emotional sense. She can taste fear, sickness, and sadness. The technical term for this ability is called "synesthesia", meaning union of the senses. I have always been delighted when I find books that have characters with "out there" abilities. This book was such a delight to read, and held several surprises. Put this book on your to read list. You don't want to miss it!
Content Analysis:
Profanity/Language: 1 religious exclamation; 3 mild obscenities; 1 derogatory name; 1 scatological word; 3 anatomical terms.
Violence/Gore: A child is mentioned to have drowned; a character is mentioned to have died.
Sex/Nudity: Adults kiss; a woman recalls lovemaking and being touched by her lover; sex is implied to have occurred between minors, no explicit detail is given; making love is referred to; partial nudity at a tattoo convention is mentioned several times; a woman who has suffered from breast cancer speaks openly about her nude body and how she feels about it; skinny dipping is mentioned to occur.
Mature Subject Matter:
Death, cancer, divorce.
Alcohol / Drug Use:
Adults drink wine.
Reviewed By Lydia