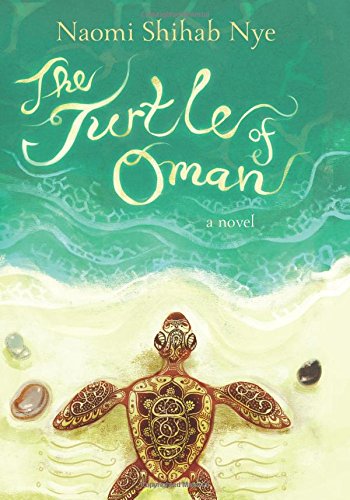 Publisher's Note:
This accessible, exquisite novel shines with gentle humor and explores themes of moving, family, nature, and immigration. It tells the story of Aref Al-Amri, who must say good-bye to everything and everyone he loves in his hometown of Muscat, Oman, as his family prepares to move to Ann Arbor, Michigan. This is acclaimed poet and National Book Award Finalist Naomi Shihab Nye's first novel set in the Middle East since her acclaimed Habibi.
Aref Al-Amri does not want to leave Oman. He does not want to leave his elementary school, his friends, or his beloved grandfather, Siddi. He does not want to live in Ann Arbor, Michigan, where his parents will go to graduate school. His mother is desperate for him to pack his suitcase, but he refuses. Finally, she calls Siddi for help. But rather than pack, Aref and Siddi go on a series of adventures. They visit the camp of a thousand stars deep in the desert, they sleep on Siddi's roof, they fish in the Gulf of Oman and dream about going to India, and they travel to the nature reserve to watch the sea turtles. At each stop, Siddi finds a small stone that he later slips into Aref's suitcase—mementos of home.
Naomi Shihab Nye's warmth, attention to detail, and belief in the power of empathy and connection shines from every page. Features black-and-white spot art and decorations by Betsy Peterschmidt.
The Turtle of Oman
by Naomi Shihab Nye
Overall Review:
The Turtle of Oman is a novel that is understated in almost every aspect--the characters, the situation, the country. The language is soothing and even the young protagonist's thoughts are lyrical. The characters, the cultural details, and the setting of Oman are all described in a watercolor-way and are more like an Impressionist painting than a vivid portrait. There is very little momentum and plot progression; in fact, the publisher's note sums up the entirety of the book. This focus of the novel is a young child's feelings and reluctance to move to another country. It is a slow-moving book that will not widely appeal, but it would be a good read for a young elementary-aged child that is going through a difficult move. They will be able to find empathy with Aref.
Content Analysis:
Profanity/Language: None
Violence/Gore: None
Sex/Nudity: None
Mature Subject Matter:
None
Alcohol / Drug Use:
None
Reviewed By Cindy