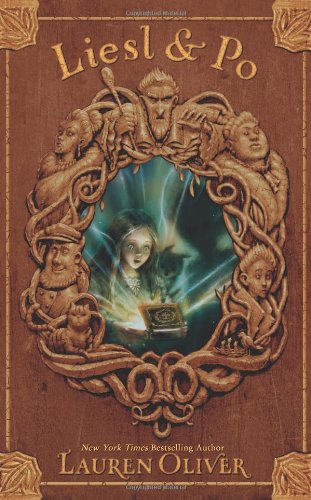 Publisher's Note:
Liesl lives in a tiny attic bedroom, locked away by her cruel stepmother. Her only friends are the shadows and the mice—until one night a ghost appears from the darkness. It is Po, who comes from the Other Side. Both Liesl and Po are lonely, but together they are less alone.
That same night, an alchemist's apprentice, Will, bungles an important delivery. He accidentally switches a box containing the most powerful magic in the world with one containing something decidedly less remarkable
Will's mistake has tremendous consequences for Liesl and Po, and it draws the three of them together on an extraordinary journey.
From New York Times bestselling author Lauren Oliver comes a luminous and magnificent novel that glows with rare magic, ghostly wonders, and a true friendship that lights even the darkest of places.
Liesl & Po
by Lauren Oliver
Overall Review:
If you are as in love with fairy tales as I am, then be sure to put Liesl & Po on your list of books to read. It may be a book meant for a 12-year-old, but I am much older and I thoroughly enjoyed myself. Lauren Oliver has written several books for young adults, and I have read and enjoyed them all. I figured a book that was on a bit younger level wouldn't hurt me. Ghosts, a lonely girl, an evil stepmother, and an orphan boy--it was like a bunch of classic stories mashed into one.
I'm not really sure how I feel in real life about ghosts. However, I don't mind reading about them, and in this book the ghosts that appeared were adorable, loving, and had wonderful senses of humor. They also talked of life after death a little bit, and the way it was portrayed made me feel comforted to know that if it were real, my loved ones who have passed are in an interesting place. I think for a child dealing with loss of any kind (one of the ghosts has a pet) this book would be a nice way to offer comfort in a subtle way.
The journey that the main characters, Liesl and Po, find themselves on is fantastical and pretty unrealistic, but the descriptions of scenes and the characters were all so wonderful and made me feel like I was experiencing a dream. This book might have been intended as a fun book, or perhaps the author hoped people would read a little deeper into it. Either way, this book is charming. If you or a fellow reader you know liked Holly Black's Doll Bones, then this book will fit your fancy just fine. And guess what? I am pretty sure both boys and girls will find this book to be a pleaser.
Content Analysis:
Profanity/Language: None

Violence/Gore: Ghosts are mentioned in a slightly creepy scene; verbal threats are made against children; death is talked about; verbal abuse is mentioned; bodies are mentioned to be burned after death; a death threat is made; a character plots how to commit a murder; a fire destroys a house; a character is poisoned and dies.
Sex/Nudity: None
Mature Subject Matter:
Death, loss of a parent, magic and supernatural, homelessness, stealing.
Alcohol / Drug Use:
Adults drink.
Reviewed By Lydia