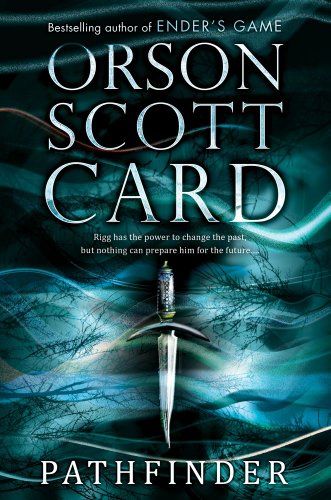 Publisher's Note:
A powerful secret. A dangerous path. Rigg is well trained at keeping secrets. Only his father knows the truth about Rigg's strange talent for seeing the paths of people's pasts. But when his father dies, Rigg is stunned to learn just how many secrets Father had kept from him--secrets about Rigg's own past, his identity, and his destiny. And when Rigg discovers that he has the power not only to see the past, but also to change it, his future suddenly becomes anything but certain. Rigg's birthright sets him on a path that leaves him caught between two factions, one that wants him crowned and one that wants him dead. He will be forced to question everything he thinks he knows, choose who to trust, and push the limits of his talent…or forfeit control of his destiny.
This book was sent to Compass Book Ratings for review by Simon and Schuster
Pathfinder
by Orson Scott Card
Overall Review:
Hats off and congratulations to Orson Scott Card in Pathfinder for being brave enough, crazy enough, and brilliant enough to tackle time travel and not have the story implode! Pathfinder begins as really two stories, two timelines, and two different styles of writing (one science fiction-flavored and one traditional hero quest-flavored) which progressively converge. I am not a hard core science fiction fan, but those sections quickly became my favorite and are what hooked me. The ability of the protagonist, 13 year-old Rigg, to see paths left by living organisms is truly ingenious and original.

Card progresses the plot primarily through dialogue, requiring the reader to work through the thought process with his characters. Midway through the book, the story did bog down briefly in political intrigue and philosophizing before returning to the truly interesting parts of the story. Dominated with male characters who like to banter, this book is an engaging read even if you are not a science fiction or fantasy enthusiast. Ended abruptly—not concluded, the book is obviously the set-up for a series and I will be standing at the front of the line for the next book.
Content Analysis:
Violence consists of the non-graphic, non-detailed reporting of some murder attempts, mob activity, fisticuffs, and such.
One mild profanity was noted. While technically not profanity, a few coarse words were occasionally used.
Sexual content was limited to passing references to illegitimate children and river men's philandering.
Mature Subject Matter:
Thematic material, while neither difficult nor prominent, consists of ethical issues about truth, manipulation, and colonization. Although there is nothing in this book that would make it inappropriate for a younger reader, this book is dialogue-driven rather than action-driven and it takes a patient reader to work through the complex concepts of time travel and the political intrigue. Thus, it would be most enjoyed by older readers.
Alcohol / Drug Use:
***
Reviewed By Cindy