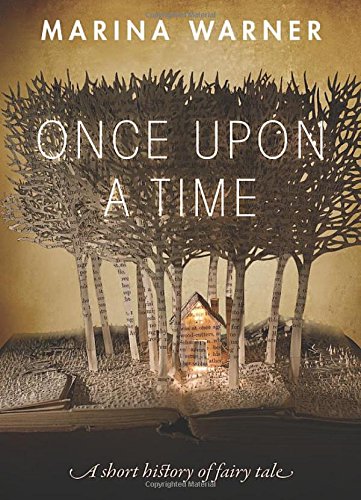 Publisher's Note:
From wicked queens, beautiful princesses, elves, monsters, and goblins to giants, glass slippers, poisoned apples, magic keys, and mirrors, the characters and images of fairy tales have cast a spell over readers and audiences, both adults and children, for centuries. These fantastic stories have travelled across cultural borders, and been passed down from generation to generation, ever-changing, renewed with each re-telling. Few forms of literature have greater power to enchant us and rekindle our imagination than a fairy tale.

But what is a fairy tale? Where do they come from and what do they mean? What do they try and communicate to us about morality, sexuality, and society? The range of fairy tales stretches across great distances and time; their history is entangled with folklore and myth, and their inspiration draws on ideas about nature and the supernatural, imagination and fantasy, psychoanalysis, and feminism.

Marina Warner has loved fairy tales over her long writing career, and she explores here a multitude of tales through the ages, their different manifestations on the page, the stage, and the screen. From the phenomenal rise of Victorian and Edwardian literature to contemporary children's stories, Warner unfolds a glittering array of examples, from classics such as Red Riding Hood, Cinderella, and The Sleeping Beauty, the Grimm Brothers' Hansel and Gretel, and Hans Andersen's The Little Mermaid, to modern-day realizations including Walt Disney's Snow White and gothic interpretations such as Pan's Labyrinth.

In ten succinct chapters, Marina Warner digs into a rich collection of fairy tales in their brilliant and fantastical variations, in order to define a genre and evaluate a literary form that keeps shifting through time and history. She makes a persuasive case for fairy tale as a crucial repository of human understanding and culture.
This book was sent to Compass Book Ratings for review by Oxford University Press
Once Upon a Time: A Short History of Fairy Tale
by Marina Warner
Overall Review:
Published by Oxford University Press, Once Upon a Time: A Short History of Fairy Tale is primarily an academic work. Reading like a thesis or dissertation, this book with appeal mostly to scholars and researchers. A lay person will most likely be lost among the trees in the first pages of the book and unable to see the forest because of the abundant, detailed references to fairy tale collections, stories, and authors that are not common knowledge. All doubt about whether this rather dense reading is for a general audience is removed by the time the reader hits the chapter on Freud and fairy tales.
For its intended audience, this book does deliver exactly what its title promises: a brief history of fairy tales up through modern films. At times the author chooses to go deep and at times she chooses to stay at a high altitude. Interestingly, sometimes the voice is purely academic and at other times, the author breaks to first person, which is an unusual mix for a scholarly book. The author clearly knows her material and has insights into this genre that are thoughtful. Recommended for committed readers that are ready to move beyond the the main stream world of Disney-fied fairy tales.
Content Analysis:
Profanity/Language: 1 scatological word.
Violence/Gore: General statement that fairy tale female protagonists are often mutilated; extended re-telling/summarization of the violent Bluebeard tale; reference to real-life man that was possibly inspiration for Bluebeard and how he was hung for sorcery and ritual murders; reference to Paris 1750 riots regarding missing children rumored to be taken by royalty so they could drink their blood; report that a real-life individual committed suicide.
There were many references or summarizations of fairy tale violence. Most were less than a page long. Examples include the following: wolf eating a girl; ordering palace chef to cook a young woman; chopping up a child to make a blood pudding, singing bone of murder victim; birds peck out eyes of stepsisters; the tale of Bluebeard the serial murderer; cutting off of heels and toes; family violence; blood stained basin with chopped human beings; the tale "Playing Butchers".
Sex/Nudity: Many brief references (all non-descriptive), including but not limited to--unmarried mothers; fairy tale in which wife drugs hero so she can visit lover; seduction; "incest plot"; in some fairy tales the heroine is raped by beasts; love affairs/adultery; stories censored for "frankness about sex"; Rapunzel pregnancy out of wedlock; concubines; sexuality; a director whose work was censored for being pornographic; "castration anxiety"; "penis envy"; "sexual symbolism"; rape; sex education; sexual desires; sexuality; "Mummy Porn"; pornography; brothel.
Mature Subject Matter:
Feminism, Freud, fairy tale violence, social issues.
Alcohol / Drug Use:
Reference to drugging and poisoning in fairy tales.
Reviewed By Cindy